Posted by AJ Koenes on May 29th 2020
Alien Gear ShapeShift Black Shoulder Holster is a dependable shoulder holster and a reliable solution while carrying open or concealed

.
The Alien Gear Black Leather Shoulder Holster for the H&K UPS Compact
Where to

buy

the Alien Gear ShapeShift Shoulder Holster
The Alien Gear ShapeShift Shoulder Holster can be purchased from Amazon or eBay.
First Impressions of the Alien Gear ShapeShift Shoulder Holster
My first impressions were pretty high on this holster. The entire holster came in black. The components look to be of high quality and easy to configure. The leather itself was supple and soft yet it was strong and well-made. The plastic used for the mag carrier and the holster were high quality and rigid and the belt clips were simple and easy to use.
Set Up and Installation of an Alien Gear ShapeShift Shoulder Holster
Now the alien gear shapeshift shoulder holster comes in many configurations. The one I had consisted of a holster on one side, and two magazine carriers on the other side. The holster itself came preassembled with a thumb break and a clamshell built for my H&K USP compact. One of the first things I did was remove the thumb break and adjusted it with the retention screws on the sides of the holster to provide enough resistance to keep my firearm secure while in the holster. After I got done with the holster I worked on the mag carriers. They were a bit more difficult to figure out and I had to refer to the instructions to see how to adjust those. Once I consulted the instructions, adjusting the magazine carriers was simple and easy. All tools to adjust them came in the package. The holster itself had four screws to adjust the retention, but the magazine carriers only had three screws to adjust their retention. They are universal and it appears that you can adjust the mag carriers for about any style of magazine on the market, including single or double stag magazines. Once you have the retention set for your magazine they will not slip out but they're easy to remove when needed. The next step was adjusting the fore and aft position of the magazine carriers. Since I was using a subcompact, I was able to set the mag carriers in the forward-most position on the paddle, allowing me to access them in a fast and efficient manner. You can set the magazines in the rearward most position which you would typically want for longer or extended magazines. The more forward they are the easier they are to get, but too far forward and they will show against your clothing. You can also adjust the cant of the magazine carriers, canting it down towards your belt line or up towards your neck. I preferred a symmetrical cant so that they protrude roughly 90 degrees from my body.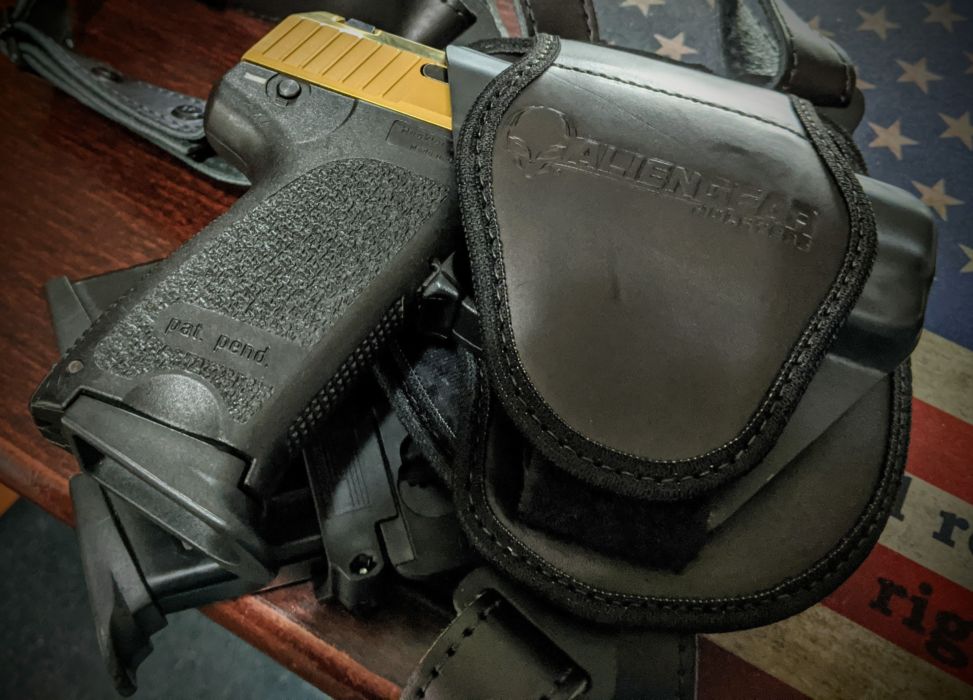 Once the holster and the mag carriers were adjusted correctly, I went to work adjusting the straps to my shoulders and torso. The shoulder straps were easy to adjust. All the shoulder straps have a slip lock to adjust the length of the leather, making it easy to shorten for my particular body type. Once I shortened all the pieces of leather, it was still slightly too loose, so then I consulted the instructions again and found that there's a binding screw that can be removed and adjusted to take up even more slack in the leather components. Once I adjusted all the binding screws to the shortest position, I was able to readjust the slip locks to a looser position, providing comfortable wear around the shoulders and against the side of the body. It took a little bit to get used to. It felt in order to be comfortable the magazine and firearm holster had to be slightly loose, but after the substantial field tests, I found that it was not the case. Even though they may not feel like they are secure, the construction of the shoulder holster provides enough slack for the harness to be comfortable and secure at the same time.
The Specs of the Alien Gear ShapeShift Shoulder Holster
This shoulder holster comes in several different configurations. You can get black leather or brown leather on their website. You can choose a single holster and two magazine carriers, or you can choose to have a double holster, providing you the option of having a pistol on either side. The shoulder holster itself comes with an optional strap link, which allows you to remove the magazine carriers if you do not choose to carry them. It also comes with a thumb break to help secure your firearm in the holster during strenuous activities. The entire holster is made of high-quality leather and the paddles that secure the magazine carriers and the holster is backed with a cool vent neoprene that is breathable and comfortable against the body. The holster itself will fit everything from a Beretta to a Walter, including and not limited to Glock, SIG, Springfield, and Smith & Wesson firearms. An entire list can be found on their website. On top of that if you have a holster from any of their other shapeshifts line of holsters, you can easily interchange it onto the shoulder holster. Likewise, if you have cloak mag carriers from another product line, you can easily secure those magazine carriers to this holster as well.
It's easily adjustable for anybody's body type. I'm relatively short. And I was able to get enough adjustment out of it for the way I draw and my particular carry style.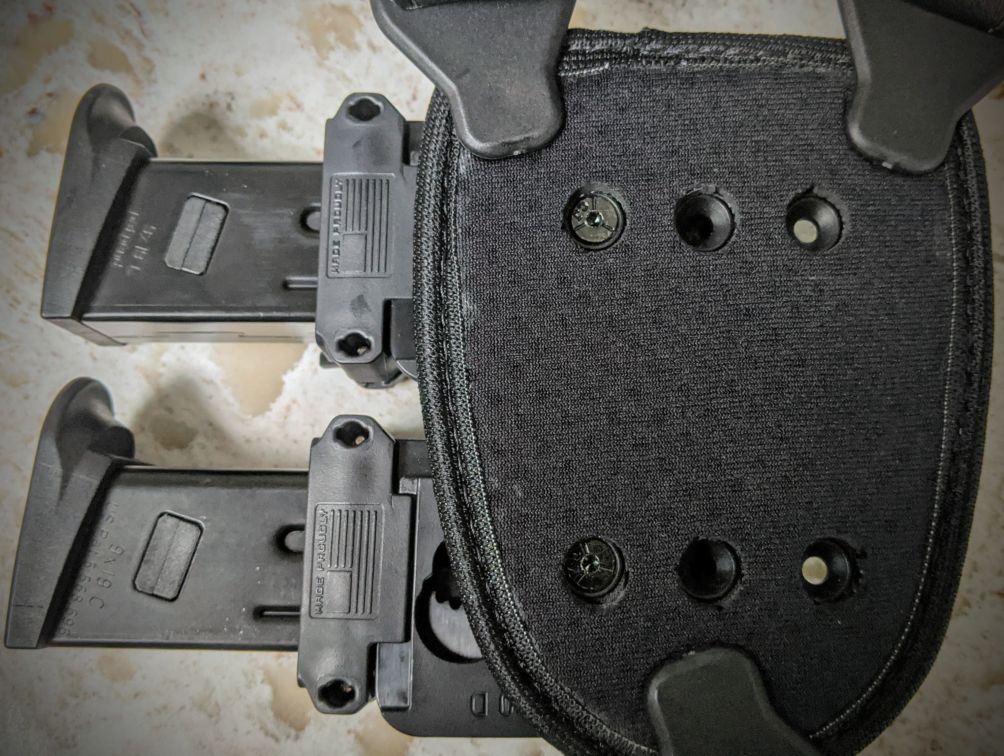 Field tests of Alien Gear ShapeShift Shoulder Holster
To field-test the shoulder holster, I wore it for a week and I worked around the house and in the yard. During that time, I was able to evaluate the comfortability of the holster along with the ergonomics functionality and other aspects that go into having a well built and proper holster for your firearm. I found this shoulder holster to not only be comfortable but to also be secure. I've found that the availability of having a sidearm allowed me the possibility of practicing my draw and my reloads consistently throughout the day. When I first started wearing the holster, I was out of practice and within a day or two, my draw had increased in speed and my site acquisition had also shortened. I was able to reload my firearm faster than I had before, simply because I had a firearm available to practice with at all times.
At the end of the week, when I went to the range, I found that my accuracy had substantially improved with my H&K USP compact. Now this H&K was the first pistol I had ever bought. I bought at a gun show in Montana and it had worked well, but I had never been proficient with it. Because of that, I had moved towards revolvers since I was more accurate and more proficient with a revolver than I was with a semi-automatic handgun. My preferred choice of concealed carry is a Chiappa Rhino 200 DS and I found that after a week of wearing my H&K USP compact I was almost as proficient and accurate with H&K as I was with my Chiappa Rhino. This shocked me and also gave me the confidence to know that with this holster, and my H&K USP compact, I could defend my life in any situation I would find myself. I also found the shoulder holster to improve my posture because of the way the shoulder straps pull against the front of my shoulders and around.It gave me proper spinal alignment helping me to build the muscle memory needed to keep me from slouching.
The Pros of the Alien Gear ShapeShift Shoulder Holster
There are many pros to this holster. The pros that I would like to point out are modularity and the ability to customize the shoulder holster for your needs. I made several small adjustments throughout my field tests. Some of them good and some of them bad, but in the end, I ended up with a product that was completely customized to my body type, draw style, and shooting stance.
The shoulder holster helped me become a more proficient marksman and also worked effectively as a CCW solution when worn under a coat or jacket. I found the holster to be non-obtrusive and comfortable,and the availability of having a sidearm to be an indispensable aid in keeping my skills finely honed.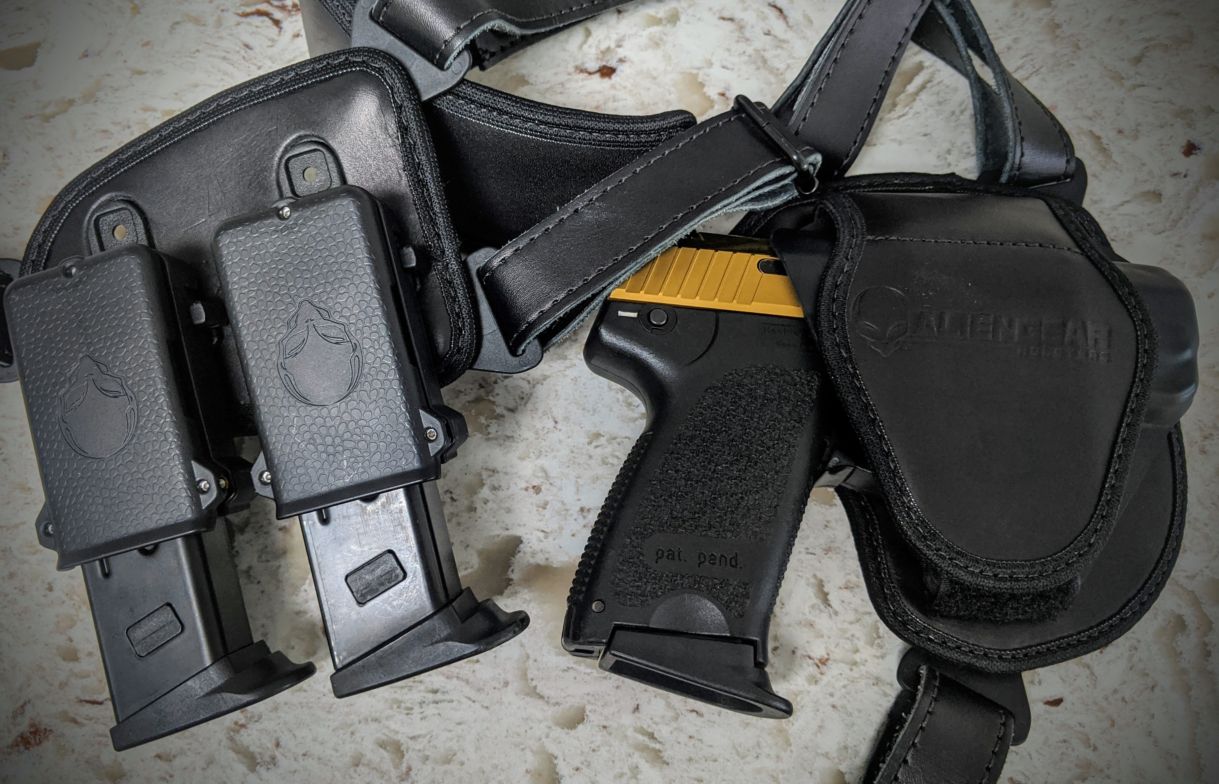 The Cons of the Alien Gear ShapeShift Shoulder Holster
The construction of the alien gear shapeshift shoulder holster was excellent, but I found a few pieces of nylon and a few pieces of thread not secured to the shoulder holster. They had come undone or weren't cut properly during construction. Now this was easy to remedy with a lighter. By moving the nylon, you could easily form it back to the way it was supposed to be, and you could singe the thread with a bulb so that they won't come undone.
I also found the thumb break to be unnecessary in my particular carry style. I do understand that it was put on there so that this would be a level III holster suitable for military and law enforcement use. As a civilian I found it to be difficult to use and in the way.
I found the retention of the holster sufficient as a level II holster in my everyday needs and as a CCW holster. I have hesitations about the elastic knowing that sometimes elastic will decay over time, but so far the elastic has held up well on this holster.
My Final Thoughts on the Alien Gear ShapeShift Shoulder Holster
My final thoughts on the alien gear shapeshift shoulder holster is that it is an excellent holster. Not only did it help improve my posture, but the availability of having a sidearm and being able to practice with it was necessary and increased my proficiency and accuracy with the H&K USP compact. The design of the holster is superb and the modularity is excellent. I've worn several different shoulder holsters in the past, but none of them have ever come close to being as comfortable as this one.
As an older style holster usually seen in noir movies and detective shows, I found that Alien Gears' take on this old design was refreshing and specifically tailored to a modern audience. I found that this particular holster brought new life into the shoulder carrier method and also made me excited to wear my gun every day. Not only because of the comfortable nature in which they built this holster, but also in the reassurance of having a sidearm to defend myself in whatever situation life might throw at me.