Posted by AJ Koenes on May 1st 2023
Red Dot Sight Revolution: Why the Riton 1X TACTIX RRD is an Essential Optic for Any PDW
The Riton 1X TACTIX RRD AR-15 Red Dot Optic provides outstanding performance for fast and accurate target acquisition on modern sporting rifles. Installation is effortless, allowing you to quickly and easily benefit from enhanced accuracy.
Initial Thoughts - A Must-Have for Any Shooter!
The optic is very sleek and low-profile. It mounts easily to the Picatinny Rail, and the adjustments are easy to make with the included wrenches. The lens is clear and easy to clean. The red dot is easy to see and very bright. Overall, I am delighted with this optic. I highly recommend this red dot sight to anyone searching for a quality product with an affordable price point.
Installation & Setup of the Riton 1X TACTIX RRD AR-15 Red Dot Optic:
On the front of the Tactix RRD, you can find the model number accompanied by a magnification value, which, in this case, is 1x, indicating that the sight has no magnification. Furthermore, at the bottom of the optic, you will see a Veteran-owned badge accompanied by the company's URL. On the side, you will find your UPC barcode and manufacturer part number. Sliding the halves apart reveals an optic well-protected with closed-cell foam. To begin the installation, remove the optic from its bag and loosen two base screws on the Picatinny clamp to attach it to your rail securely. After inserting them in place, use a wrench to tighten up the screws, and voila - you are all set!
Features of the Riton 1X TACTIX RRD AR-15 Red Dot Optic:
The Tactix RRD is the ideal combination of strength and utility—weighing only 9.5 ounces, it boasts a 1 MOA red dot with 6 levels of brightness plus night vision compatibility, giving you remarkable versatility. Not only is it powered by just one CR2032 battery, which lasts up to 40,000 hours of use, but it also comes equipped with a skeletonized cantilever mount for added convenience.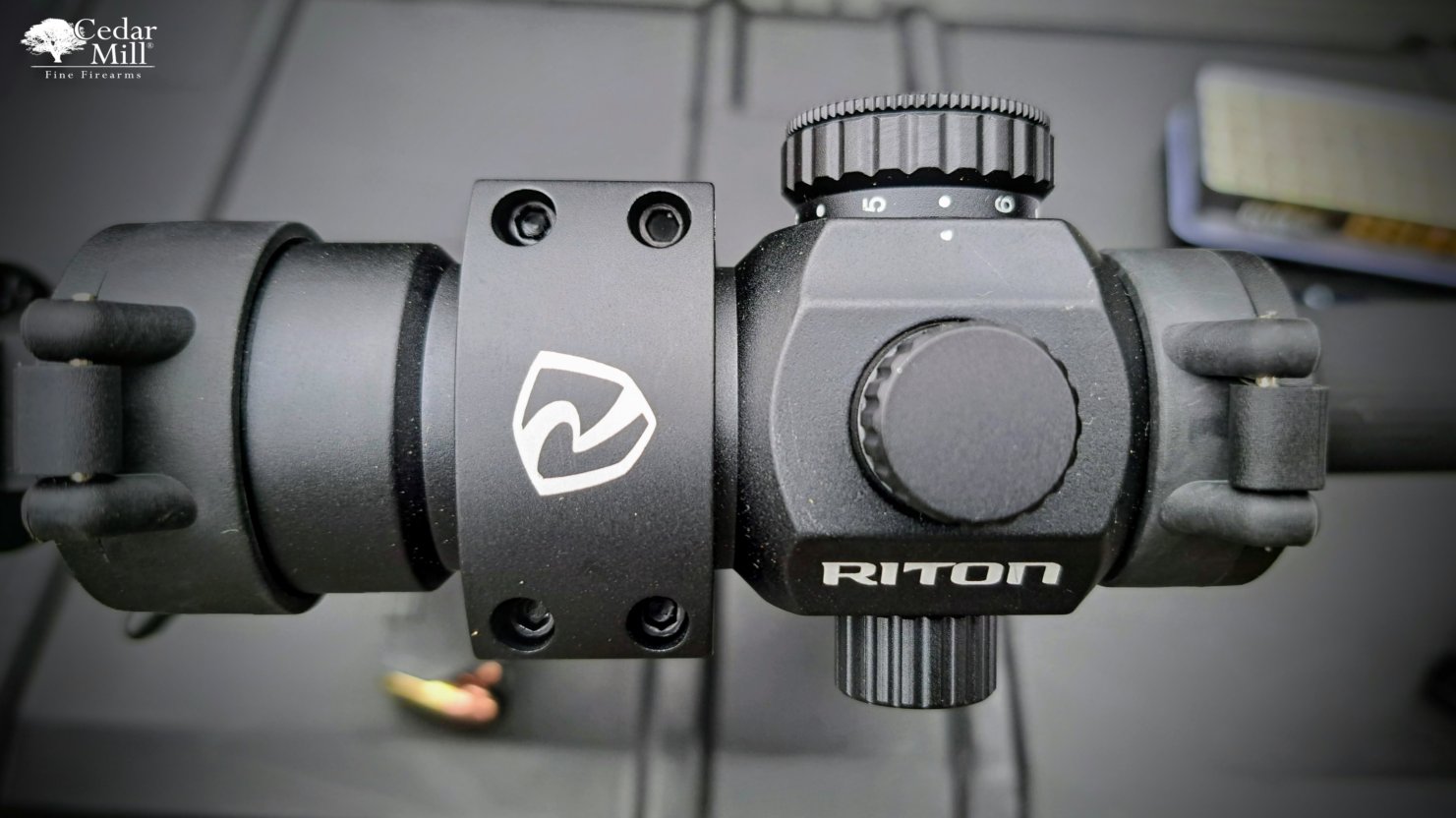 PRODUCT FEATURES:
1 MOA Windage and Elevation Adjustment
6 Levels of Red Illumination Featuring On/Off Between Each Level
40,000 Hours of Battery Life
Specs of the Riton 1X TACTIX RRD AR-15 Red Dot Optic
| | |
| --- | --- |
| Magnification: | 1 |
| Parallax Adjustment: | Fixed at 50 yards |
| Objective Lens Diameter: | 29 mm |
| Lens Coating: | Fully Multi-Coated, Full Wide Band, Waterproof Coated, Low Light Enhancement |
| Dot Size: | 2 MOA |
| Material: | 6061-T6 Aircraft Grade Aluminum |
| Eye Relief: | Unlimited |
| Click Value at 100 yds/mm: | 1 MOA |
| Adjustment Range: | 120 MOA |
| Length: | 3.76in / 95.5mm |
| Weight: | 9:5oz/269g |
Field Test Results of Riton 1X TACTIX RRD AR-15 Red Dot Optic
The field test results were excellent! When mounted on my EP9, the optic provided an extra inch of elevation above the Picatinny rail. This unique quality resulted in a quick and efficient acquisition, making my shooting experience seamless. The dot's small MOA was sufficient for quick acquisition yet precise beyond 20 yards. Mounting the optic to the back of the rail enhanced my sight picture since it reduced the distance between the optic and my eye. Consequently, operating the firearm with both eyes open became effortless, and I could even maintain a steady pistol while taking slow, accurate shots.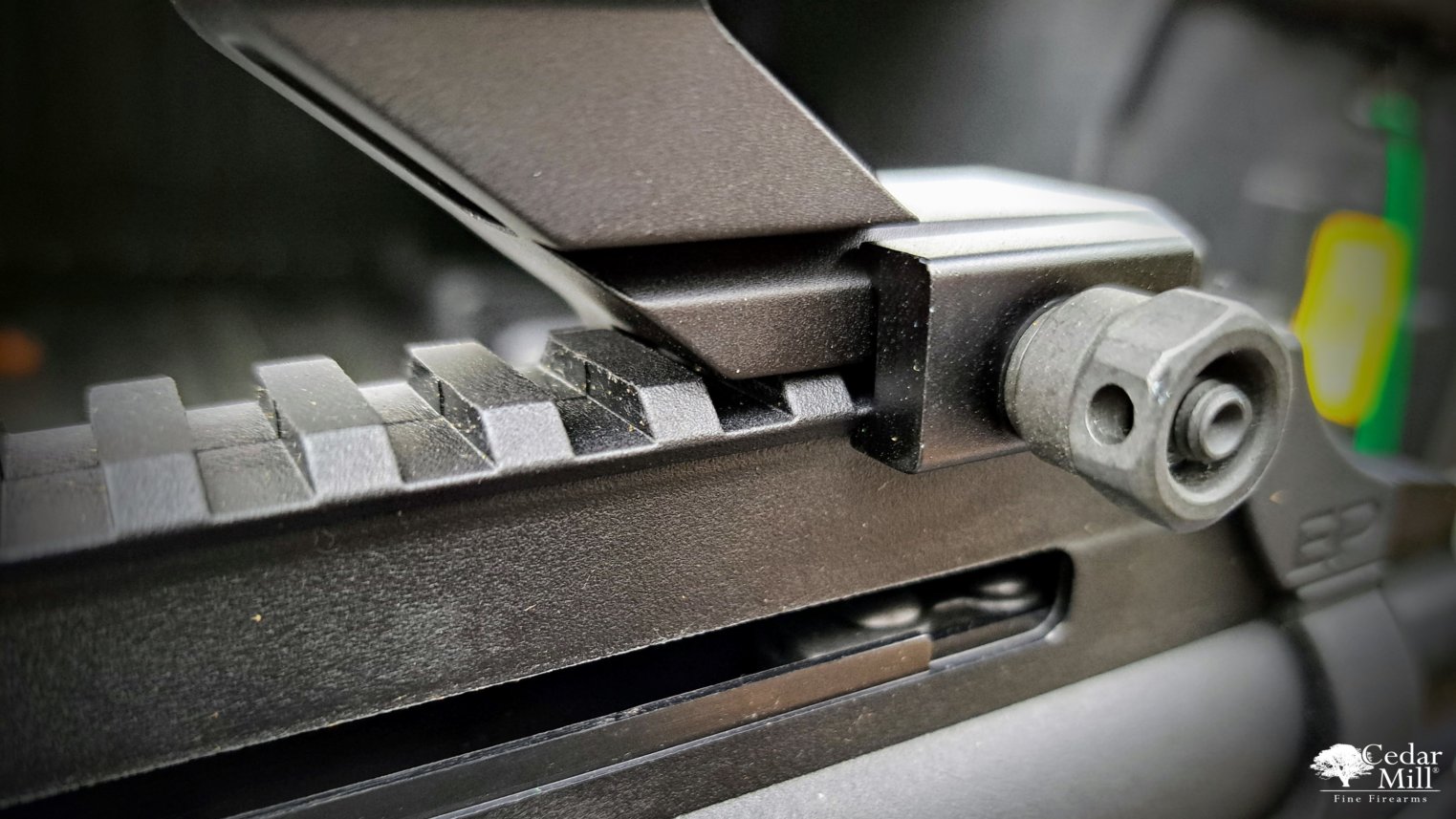 Overall, the optic delivered an impressive performance. The windage and elevation turrets were easy to adjust, with the up-and-down windage turret functioning as intended. However, I had to get used to the left-to-right windage turret operating in the opposite direction of the elevation. For instance, turning the turret to the left position would result in the dot dropping, while turning it to the right would move the dots to the left. Despite this, I managed to get the optic dialed in after a bit of practice.
Riton 1X TACTIX RRD AR-15 Red Dot Optic Accuracy Result
This red dot sight performed beyond expectation, as shown in the images with tight and consistent groupings taken from 25 yards.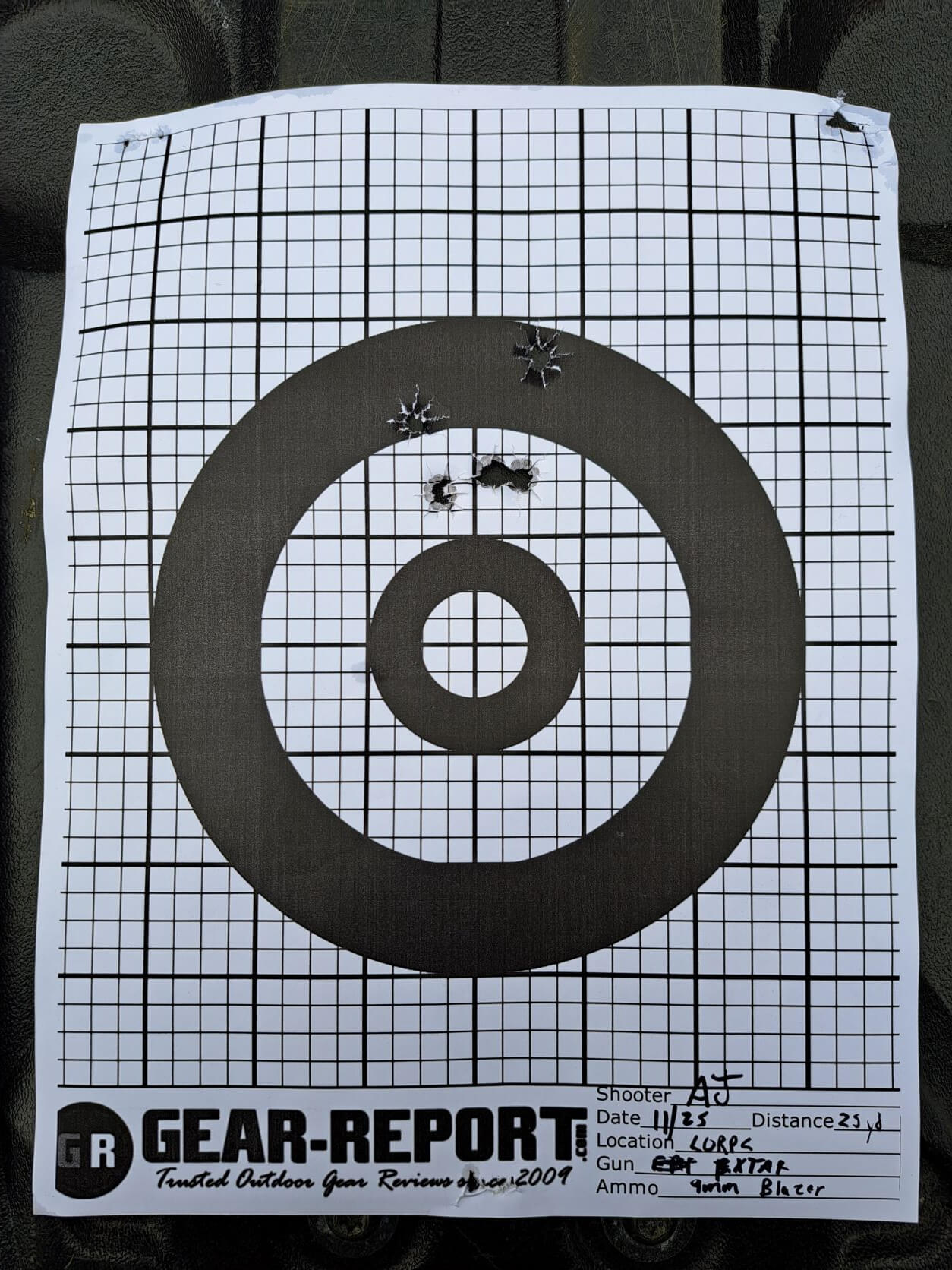 Pros of the Riton 1X TACTIX RRD AR-15 Red Dot Optic
The 1X Tactix RRD AR-15 Red Dot Optic has several key benefits. One of my favorites is the inclusion of the forward and rear flip-open sight covers, which are convenient and effective in keeping the optic clean. It eliminates the need for purchasing additional Butler Creek Scope Covers. Another advantage over competitors is that Riton provides a riser Picatinny adapter with their red dot sight, allowing for the appropriate rise and attachment for most standard AR-15s.
The optic can be attached to any AR or modern rifle right out of the box. The third noteworthy benefit is the illumination knob, which features quick stops at every brightness level. This design means that you must pass an off position when moving from one to two and another off position between two and three, and so on. By setting your off position between your preferred brightness levels, you can easily switch between brighter and dimmer settings when using your optic. You'll always know exactly where to find your customed modification based on your experience using the sight at the range.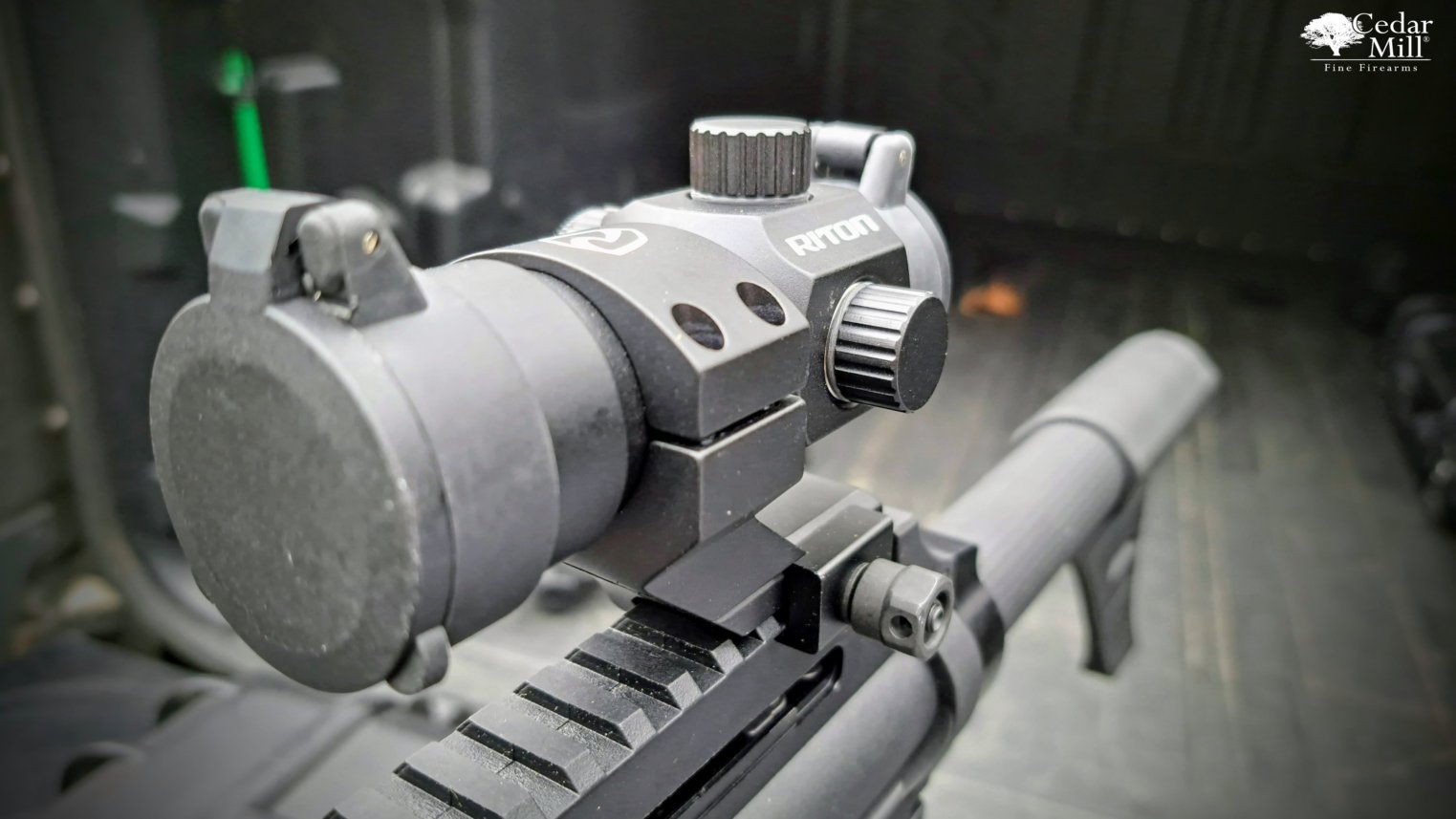 Cons of the Riton 1X TACTIX RRD AR-15 Red Dot Optic
During my shooting experience, I encountered an oddity where the windage and elevation turrets appeared to be backward from each other. Initially, I considered the possibility of a personal error, such as dyslexia, being the cause of this confusion. However, after observing the same results on the second and third days at the range, it became apparent that something was amiss. Although I was eventually able to zero in on my target and correct the error, it was a more complicated and ammo-consuming process than it should have been.
Upon analyzing the situation, I realized that the style of the pistol on which it was mounted made it possible that the elevation turret was working in reverse when I was aiming at targets located on a platform in close proximity. Nevertheless, since it was a 9mm, and my bullet drop became increasingly evident as I aimed my shots at targets further away, it is highly unlikely that proximity was the cause of this confusion. Based on this, I suspect that there might have been a problem with the elevation turret.
Final Thoughts on the Riton 1X TACTIX RRD AR-15 Red Dot Optic
The Riton 1x TACTIX RRD AR-15 is an excellent sight for any modern rifle. I used it on my 9mm pistol, and I am confident it will perform well on my other rifles too. If you're using a pistol caliber carbine or pistol caliber pistol, I recommend using this type of sight. Most rifle rounds are accurate past 50 yards, and a non-zoom optic can become challenging to use at this range. When shooting with a rifle, you'll probably want some magnification to help you achieve accuracy at further distances. However, in close-quarter situations or with a pistol-caliber firearm, The Riton 1x TACTIX RRD AR-15 is unrivaled. Overall, I find this sight to be a top-notch choice for these types of firearms.