Posted by Cici Tim on Sep 16th 2022
The 5 Best TSA Approved Firearm Travel Cases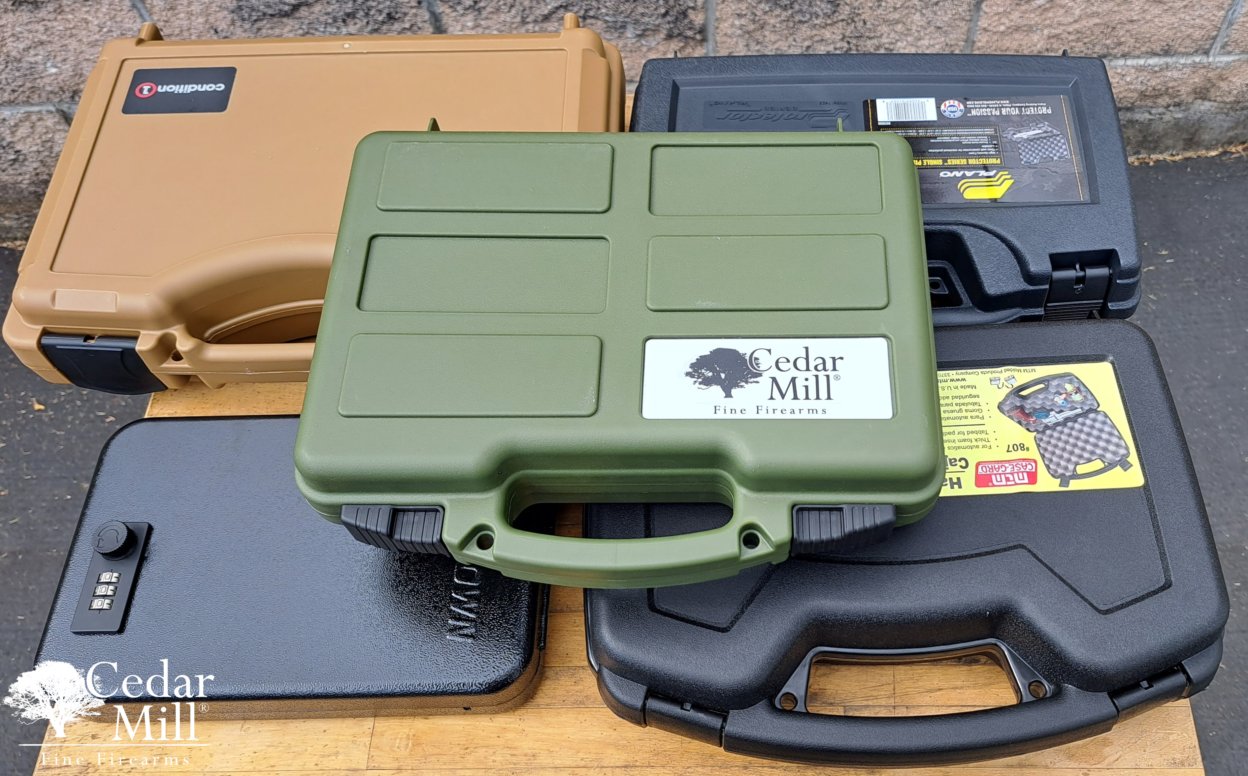 In the United States, flying with a firearm lawfully necessitates that you follow both airline and TSA regulations, as well as international and national laws when traveling abroad.
One of the primary reasons for non-compliance is that individuals are unaware of these laws. This can result in the loss of your firearm, a substantial fine, or even prison time if you don't follow these rules.
TSA firearms policy states: "Firearms must be unloaded and locked in a hard-sided container and transported as checked baggage only. As defined by 49 CFR 1540.5 a loaded firearm has a live round of ammunition, or any component thereof, in the chamber or cylinder or in a magazine inserted in the firearm. For civil enforcement purposes, TSA also considers a firearm to be loaded when both the firearm and ammunition are accessible to the passenger. For example, if an individual has a firearm with inaccessible baggage and ammunition in his/her pocket or any combination where the individual has access to both, the firearm is considered "loaded" for purposes of assessing a civil penalty. Only the passenger should retain the key or combination to the lock unless TSA personnel request the key to open the firearm container to ensure compliance with TSA regulations. You may use any brand or type of lock to secure your firearm case, including TSA-recognized locks."
What this means is that:
Your firearm must be locked in a hard-sided case that only the owner can open. (you can use TSA-recognized locks)
The firearm must be inaccessible, this means if you can pry the case apart and remove the gun, it is not secure.
Your firearm must be unloaded. Magazines should be removed and unloaded and ammunition should also be locked and inaccessible
Fortunately, several TSA-approved gun cases are available in a variety of price ranges. We've compiled a list of some of the best TSA-approved gun cases available to assist you in choosing the right one for your next trip.
Cedar Mill Fine Firearms - Hard Gun Case Pistol Case
Price: $24.99 - $29.99
The Cedar Mill Fine Firearms Hard Gun Case is made with DS3TeK polymer that's designed to be tough yet lightweight. It includes an egg crate foam that's glued into the lid, together with two layers of Pick and Pluck foam to secure your gun. The Cedar Mill Fine Firearms TSA-Approved lock fits the case like a glove.
It fits large handguns and closes tightly without any gap.

The Pick and Pluck foam is customizable, and the egg crate foam is attached to the case, adding an extra layer of protection for your pistol.

The material used for the case is made of carbon fiber reinforced polypropylene (DS3TeK) which makes it durable and strong.

It is compatible with the Cedar Mill single shank TSA lock
There are 4 different options to choose from: Desert Tan, Socom Black, USAF Gray, and Olive Green. These stackable cases are perfect for those who have limited space. The dual-latch locking system ensures your handgun is secure, and you can customize the Pick & Pluck foam to fit just about any size or shape that you want. This means that you can customize it for 2 small handguns or for a larger handgun and a box of ammo.
Lockdown Handgun Vault
You can buy it here

Price: $28.99
The Lockdown Compact Handgun Vault is a nice case, but due to its size, it is only limited to smaller handguns. So if you're planning to carry a standard-size or large handgun, you may need to think twice and check the Lockdown Handgun Vault's dimensions before purchasing it.
It only fits smaller handguns which is a limitation

It does not have pick and pluck foam. The regular PU foam in the case is loose and thin, your handgun may contact the metal frame when shaken or thrown.

Unlike the rest of the cases, it's made up of metal which makes it heavy to transport.

It has an integrated combination lock.
To sum it up, the Lockdown Compact Handgun Vault is a great case for people who are using smaller handguns and prefer metal cases for additional security. With its integrated lock, you no longer need an additional lock to secure your firearm. Metal is heavy, so you may exceed your check bag weight limitations set by the airline.
Plano Protector Series Pistol Cases
You can buy it here

Price: $8.99
If you're extremely budget-minded, Plano Protector Series Pistol Case is a case to consider. The color is not exactly black, but it is more likely a darker shade of gray. The exterior texture is aggressive and bold.
It fits larger handguns

The egg crate foam is not attached to the case and falls off easily when you open the case.

It works with a TSA-Approved lock, but it only has one locking lug.
The disadvantage of this case is that it only has one place to use a lock. This is not secure and you can often fit your hand inside and slip the gun out. In order to close the case, you have to put a lot of pressure on it. It is a TSA-acceptable case, but overall, this is not recommended for air travel.
The MTM Case-Gard
You can buy it here

Price: $11.99
The MTM Case-Gard is an affordable and secure case for your handgun. The TSA-approved lock works well to keep the lid closed and prevents anyone from accessing your gun.
It easily closes with a large handgun inside.

There's no PU foam included for you to customize.

It's compatible with TSA-Approved locks and works effectively in keeping the case closed.
The MTM Case-Gard serves its purpose and works well with TSA-Approved locks. It's a budget-friendly case that you can use to get through the airport. Unfortunately, the standard egg crate foam does not secure heavier handguns inside the case. As you shake and shuffle the case you can feel and hear the pistol slide around inside the case.
Condition 1 Waterproof Protective Hard Case
You can buy it here

Price: $19.99
The advantage of Condition 1 Waterproof Protective Hard Case is that it's a bit bigger than the other cases mentioned. It fits a large handgun and closes easily while the handgun is inside the case. It doesn't work with a single shank lock, but you can use a cable lock instead. As we all know, cable locks are one of the more universal locks that you can use, but with their low quality, the level of security is often inadequate. It would be risky to trust your valuable handgun with a cable lock.
It fits a large handgun without difficulty closing

The egg crate foam comes loose easily when opening the case since it's also not glued in.

It is not compatible with a standard lock. However, you can use a cable lock to make it acceptable for air travel
This is a TSA-approved case but I wouldn't recommend putting it in an airplane. The usage of an inferior lock could result in your gun being stolen. Only if you use the correct lock is this case secure enough to prevent the removal of your pistol. All in all, it's a pricey case for its quality, but considering the size of the case, you may want to give it a try.
Final Thoughts
When buying a case for your handgun, you need to ensure that the case is travel-ready and properly fits your handgun. There are certain cases that are only limited to small handguns, so be sure to check the size of the case and assess the weight of the case. Airlines often charge for overweight bags. You have to consider the quality of materials used and how well they are constructed. If the foam is not sufficient and not securely glued into the case, then there are risks that your handgun can get damaged during transport. The next thing that you need to check is if it's compatible with a TSA-approved lock. This will add an extra layer of protection to your firearm and prevents anyone from attempting to open the case. If you have been looking for the best TSA-approved gun travel case but are not sure which one is right, I hope that this article has helped you decide on which case to choose from.