Posted by AJ Koenes on Sep 2nd 2022
The Top 5 TSA Approved Locks For Your Gun Case
TSA locks are a great way to secure your firearm while traveling. Until recently only non-TSA locks were permitted, but recent changes in the regulation have opened the door for many possibilities for securing your handgun on an airplane.
There are a few different types of locks that can be used for this purpose as well. Here are 5 of the best TSA-approved locks. Keeping your weapons and other belongings safe while traveling is critical. There are several brands, styles, and sizes to choose from when it comes to the ideal TSA-approved locks for your luggage and firearm cases. To assist you in your search, we have compiled a list of the top 5 locks. Most are approved by the Transportation Security Administration.
Many people are surprised to find out that you can travel on an airline with a firearm. Whether you are going on a hunting trip, returning home with an heirloom from your grandfather, or traveling on business, there are many reasons you might bring a gun with you. Until recently you need to make sure your firearms were secured in a hard-sided locked case. The keys or combination of the cases is held by the owner. If a TSA agent needed to inspect the case they would call you down to open it so they can resolve the issue that called for the inspection. Recently regulations have been amended to allow for TSA-certified locks. Today we give you the best options for TSA and other locks you can use to secure your guns while you travel by air.
Cedar Mill Fine Firearms Gun Case Lock
You can buy it here
Price: $ 14.99
Cedar Mill Fine Firearms Gun Case Lock has a strong and durable shank made of high-quality stainless steel. The lock features a push button release, a rubber tether to keep the components together, and an easy-to-use dial combination system.
The Single shank design prevents a bolt cutter from defeating the lock
1-1/4" shank works well with most cases
The combination system is easy to remember and does not rely on a key.
This rustproof luggage lock can withstand harsh impacts while traveling and it will last you through the most demanding hunting expedition. It has a 1.25-inch shank that will fit most cases. The removable, washable, and durable rubber cover of the Cedar Mill Fine Firearms' Gun Case Lock makes it simple to clean. It also has a release button mechanism, so it is easy to use and manage. The TSA Approved lock also has a tight fit, but not so tight that it doesn't work well with other cases.
Nanuk TSA Approved Case Lock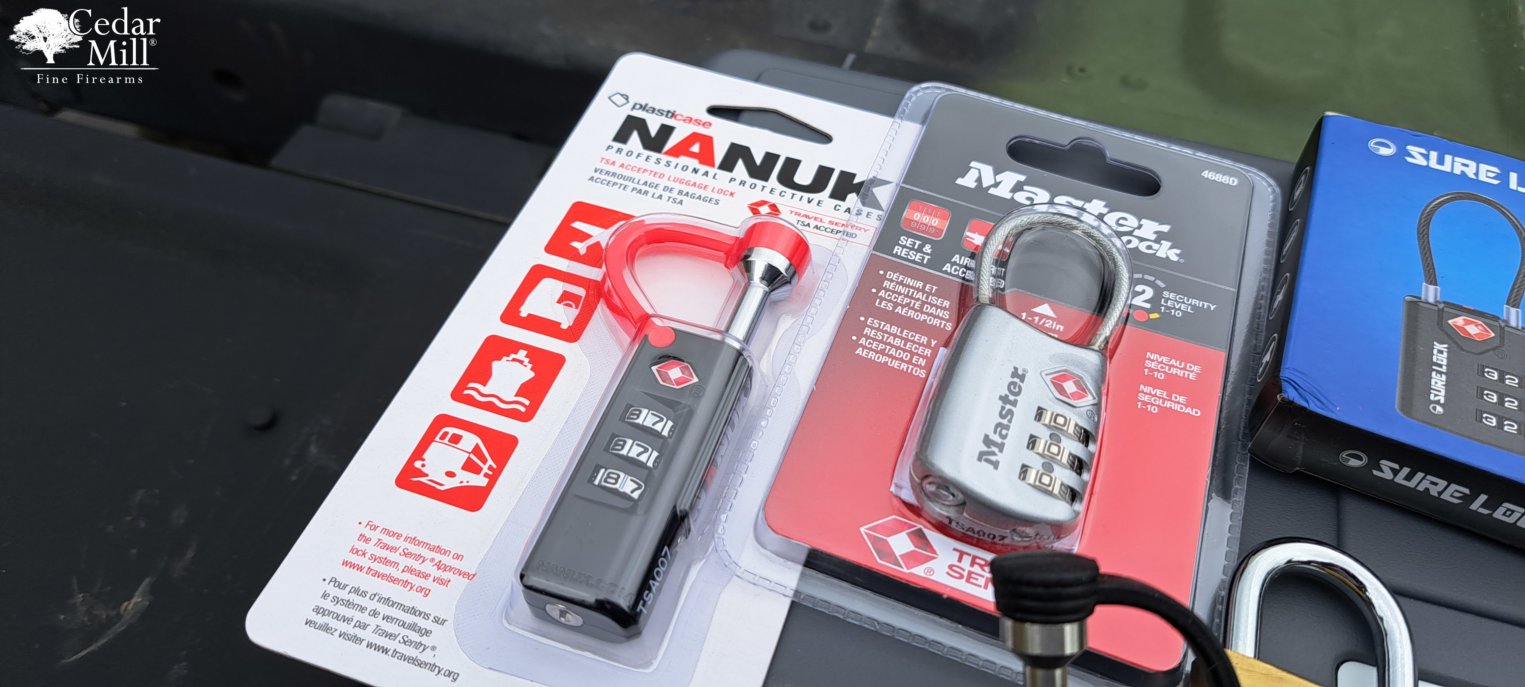 You can buy it here
Price: $18.35- 19.99
The Nanuk TSA Approved Case Lock is another single shank lock. Nanuk case locks are designed to keep your belongings safe and secure, whether you're traveling or not.
The Single shank design prevents a bolt cutter from defeating the lock
Works well with Nanuk cases, but is a little too short to work with other cases
No push button. The lock has a push mechanism that latches and unlatches the shank
This lock does not have a push button, but the pull and push mechanism of this lock is also easy to use. This lock's shank is too short for some cases. The lock works well and looks good while doing its job. The silicone teather did its job and was easy to remove if you choose not to use it. The thick shank fits well on all our test cases, but the length of the shank was too short for the same cases. This needs to be considered if you are on a time constraint before you need to depart.
SURE LOCK TSA Accepted Heavy Duty Big Combination Luggage Padlock for Gun Cases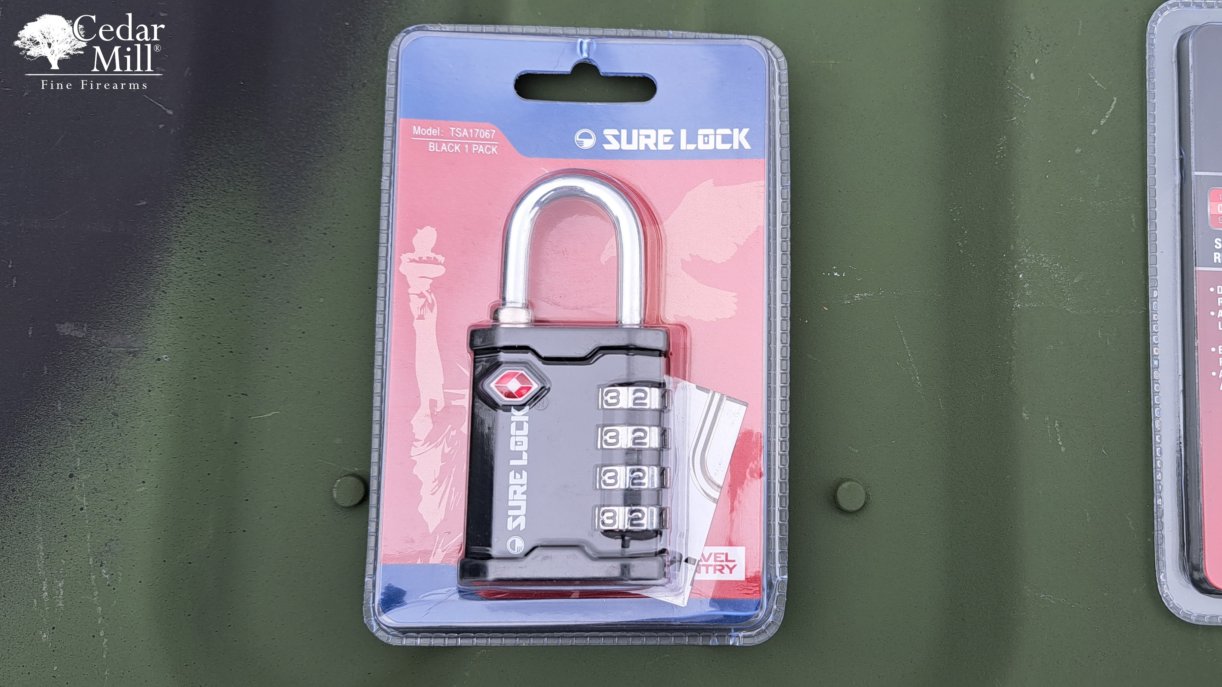 You can buy it here
Price: $ 15.95
The SURE LOCK is a standard and heavy-duty combination padlock that is designed specifically for transporting firearms. It's made of thick, durable steel and features a tamper-proof design.
U-shank can be defeated by a bolt cutter and other simple tools
The length of the shank works well with most cases
The combination system is easy to remember and does not rely on a key.
The lock is easy to use and can be installed in just a few seconds, which is perfect for any business or individual who needs to transport a gun while they travel. It is also the perfect way to keep your items safe while on the go. This smart lock uses the TSA 006 master key, which is supported by airports in over 30 countries. The push and pull locking mechanism of this lock makes it easy to use, there's no push button to latch and unlock the shank.
Master Lock No. 140 Padlock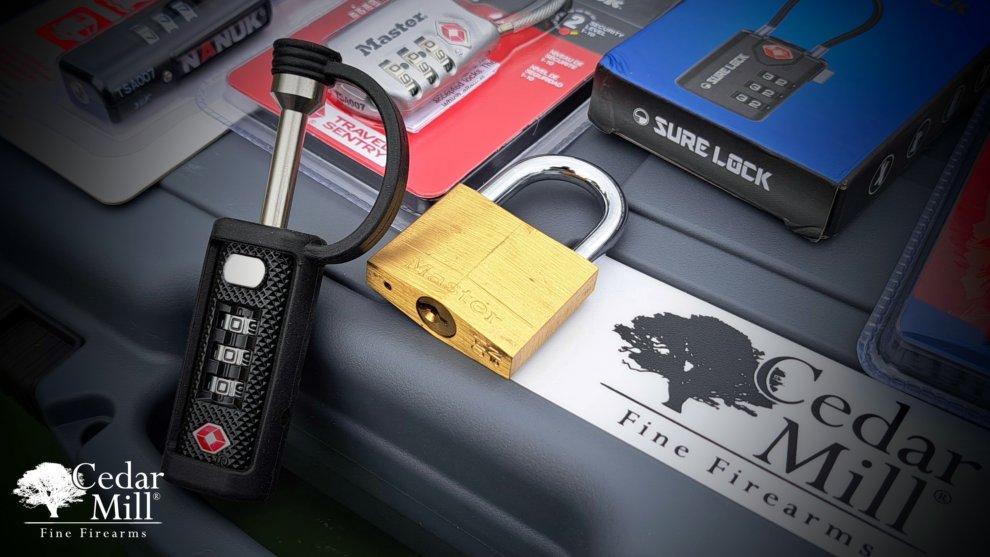 You can buy it here
Price: $ 7.99
The Master Lock No. 140 is a traditional padlock. The U-shank design makes it more secure than a cable lock. The shackle of this lock is made of hardened steel so that it can withstand physical attacks. This Traditional Master Lock No.140 padlock needs a key to open and the shank must be pushed down to secure the lock.
Not TSA approved, but per regulations is still suitable and often preferred.
A key is not as convenient as a combination but is more secure
U-shank suffers from being vulnerable to defeat with hand tools
The Master Lock 140 is a tried and true lock for firearms transportation. The U-shank is a bit long so depending on the design of the accommodating case it may lead to a significant gap allowing a firearm to be slipped out the side. This concern means that you need to test the lock and the case before you travel. There is nothing worse than getting to the airport and being told your lock is too loose. Especially when you have a plane to catch.
Sure Lock Combination Cable Lock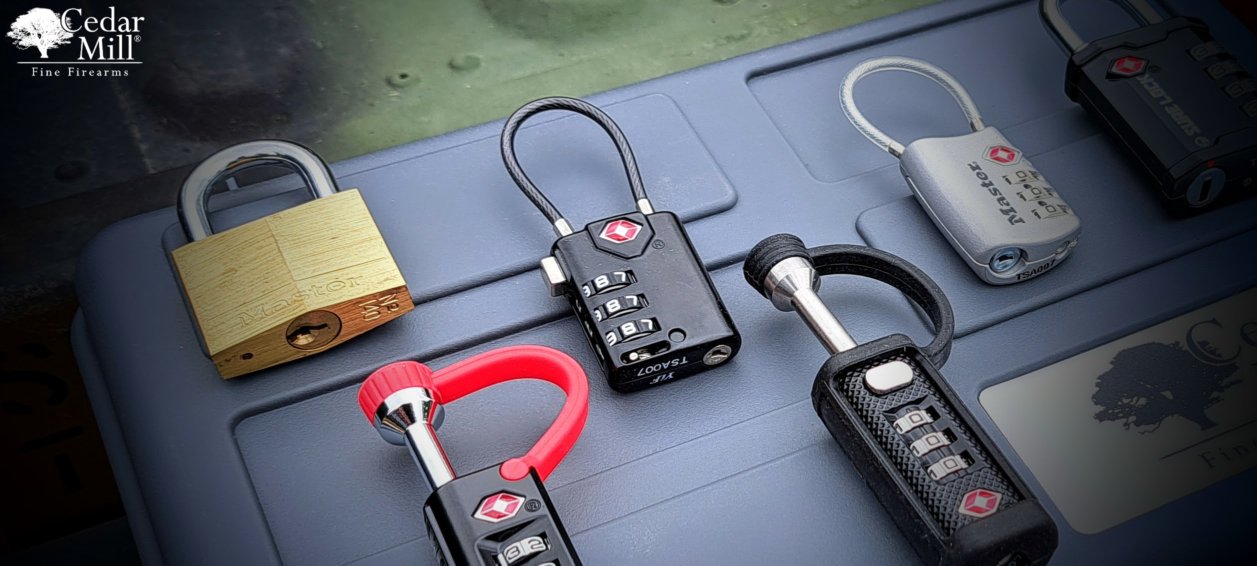 You can buy it here
Price: $ 7.95
The Sure Lock Combination Cable Lock is a dependable and easy-to-use kind of lock. This lock features easy-to-read numbers, and Sure Lock uses a white numeral on a black background for the combination dials. The numbers are in high contrast, so it will be straightforward to read. This lock also features a push button for the locking mechanism. It is designed to work with a wide range of bags and gun cases. The shank on this lock is also sturdy. It has a button release mechanism, so it is much easier and more convenient to use.
Cables are easy to defeat
The flexibility of a cable allows for a looser fit, often it is loose enough to be rendered redundant.
Push button latch is easy to use
The only cons of cable locks are that they are not thick and not tight enough, and in some cases, your items are not secure inside. They don't work very well in some situations because they do leave a lot of space to slip the pistol out of the side of the case.
Final Thoughts
You are not required to use a TSA lock and some even suggest against it. The Travel Sentry locks have been used by millions of people and I have yet to hear of a time this system was abused. Having a secure lock that keeps your rifle, pistol, or revolver safe from theft and damage is more of a concern than anything else. The single shank locks provide the most secure fit for most cases, thus preventing the gun from slipping out the side of the case. The U-shank locks have been proven to be effective, easy to use, and secure for many years. This long history of use has also provided common methods of defeating them. The cable locks are the most universal and the least secure lock you can get. They will work in most situations, but I'm uncomfortable trusting an $800+ tool to be secured by a cable with the width of a shoestring.
TSA-approved locks are designed to be easily opened using a universal key that is accessible by all TSA agents in the United States. Now that you have some knowledge of the best locks, make sure you have chosen a lock that is worth the price and guaranteed the safety of your firearm.