Posted by AJ Koenes on Jun 30th 2023
The Grey Man Vehicle Seat Back RMP - Tough Hook Plate Carrier Hanger is the Perfect Choice to Store Your Gear
The Grey Man Seatback Plate Carrier is the perfect backup option for those seeking a safety measure in an emergency. It's lightweight and the adjustable straps ensure a comfortable fit.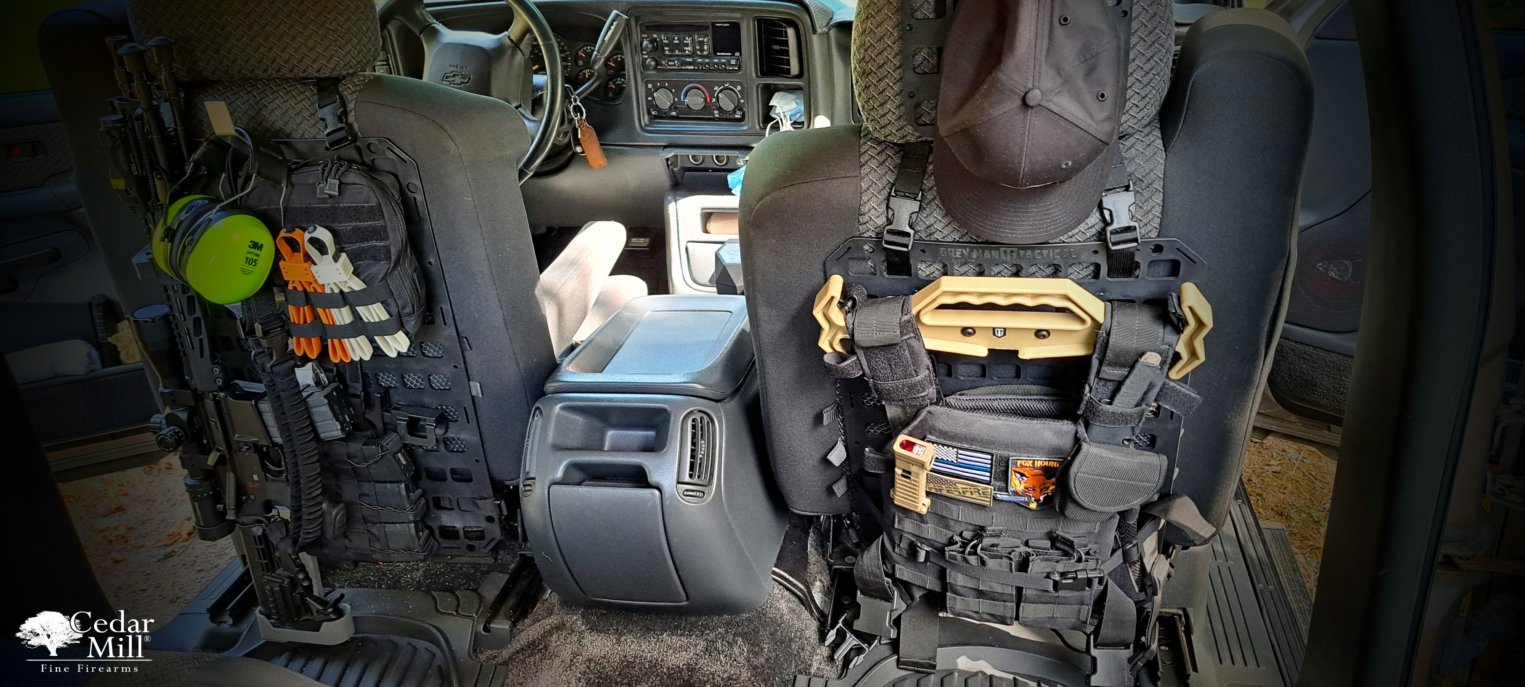 You can buy the Grey Man Vehicle Seat Back RMP - Tough Hook Plate Carrier Hanger on their website here.
Initial Thoughts on the Grey Man Vehicle Seat Back RMP - Tough Hook Plate Carrier Hanger
What fascinates me the most about the Grey Man Tactical designs is their creativity and authenticity. When the Grey Man Seat Back Plate Carrier arrived, all the components were included inside the cardboard box. Regardless of the number of parts, they were packed separately. Using only a few simple specialized pieces and some common hardware that can be purchased at any hardware shop, they provide solutions for seatbacks that function flawlessly with an armored vest.
How to Install and Assemble the Grey Man Vehicle Seat Back RMP - Tough Hook Plate Carrier Hanger
The RMP Tough Hook Plate Carrier is simple to install. Two D-rings are suspended from the headrest pins and fastened to the RPM's top. There is a strap that connects two or more hooks on the bottom and goes around the base of your seat. The RMP separates from the strong hook by two hex head bolts, specially manufactured RMP nuts, and a spacer.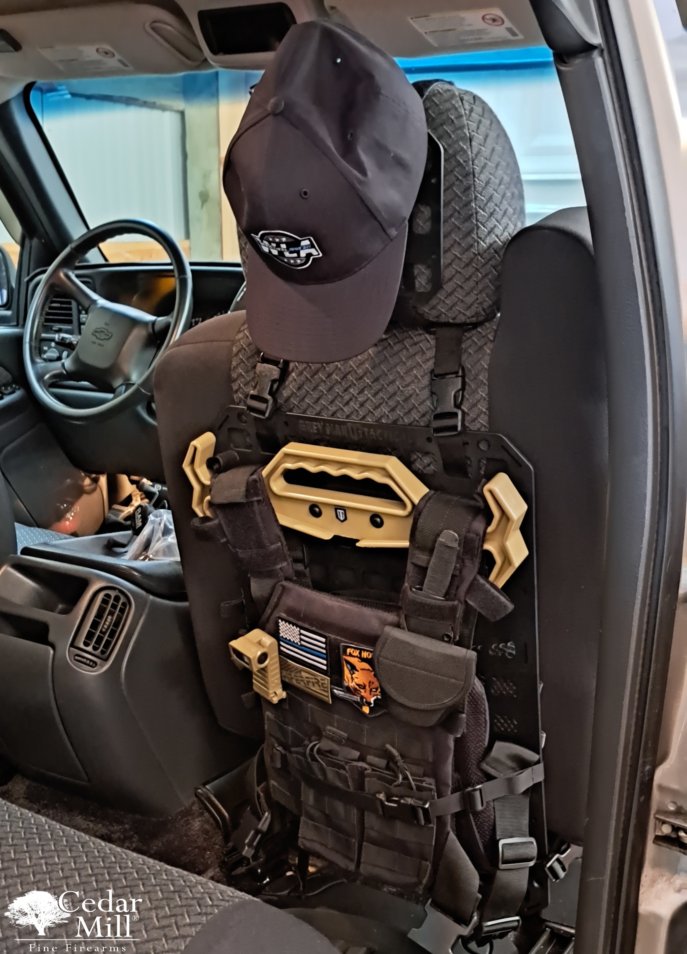 Additionally, the objective of the strap is to safely hold your vest against the RMP panel while you move. The nylon strap fastens with a clasp. The clasp is quickly and easily adjustable to achieve a snug fit. Every item was placed in its proper position on the rigid M.O.L.L.E panel before being transported to my Chevrolet Avalanche and attached to the back of the passenger seat, while a smaller RMP panel is affixed to the headrest using basic Velcro, allowing it to be easily fastened to the seat by looping the Velcro through the RMP and securing it from the headrest.
The Grey Man Vehicle Seat Back RMP - Tough Hook Plate Carrier Hanger Comes with the Following Features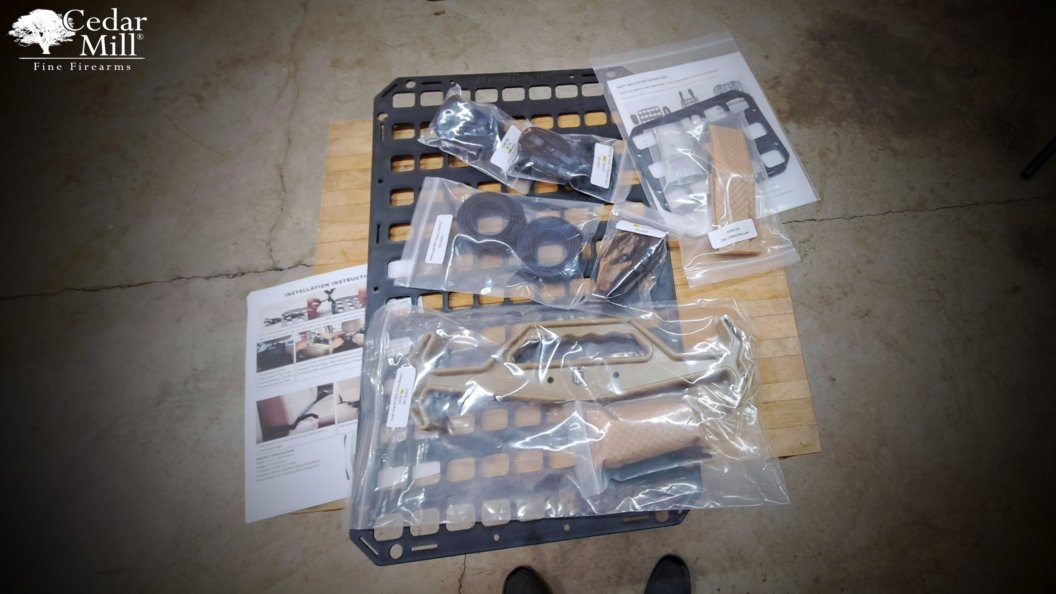 Package Contents:
QUANTITY
Tough Hook [Pre-Drilled Holes and Coat Hanger Removed]
1
Aluminum Spacer
1
RMP Backer Plates
2
Machine Screws
2
¼" Flat Washers Black Oxide Finish
2
15.25 X 25 RMP™
1
Buckle Loop-Around + D-Ring RMP
Strap™ Black [Headrest]
1
Buckle Loop-Around RMP Strap™ Black [Seat Bottom]
1
Buckle Multi-Purpose RMP Strap™ - Black - 48""
1
Specifications:
WIDTH
15.25" | 387.35mm
HEIGHT
25" | 635mm
THICKNESS
0.188" | 4.77mm
WEIGHT
60 ounces | 1700.97 grams
MATERIAL
Injection Molded Glass Filled Nylon
BRAND
Grey Man Tactical™
SKU
TAN 000080 | Black 000081
UPC
N/A
M.O.L.L.E SPACES
width X height NA
The Grey Man Vehicle Seat Back RMP - Tough Hook Plate Carrier Hanger Was Put to the Test in a Real-World Scenario
The RMP Tough Hook Plate Carrier plays a significant role in the field. Its back strap prevents any movement or shifting that could result in the vest becoming dislodged. Having a safe way to get around, whether you're out for the day or need to transport it in your vehicle, is a wonderful idea.
The Condor tactical vest is a robust plate carrier, with ceramic plates at the front and rear, capable of supporting up to 20 pounds. For personal protection armor, the National Institute of Justice has created varying levels of protection, ranging from level 2 (the lowest) to level 4 (the highest). Both levels 2 and 2A concentrate on stopping handgun rounds - but the crux of level 3 is stopping the same rounds with greater efficacy. When a person anticipates being fired upon with a high-powered rifle, level 4 body protection becomes a prerequisite for survival.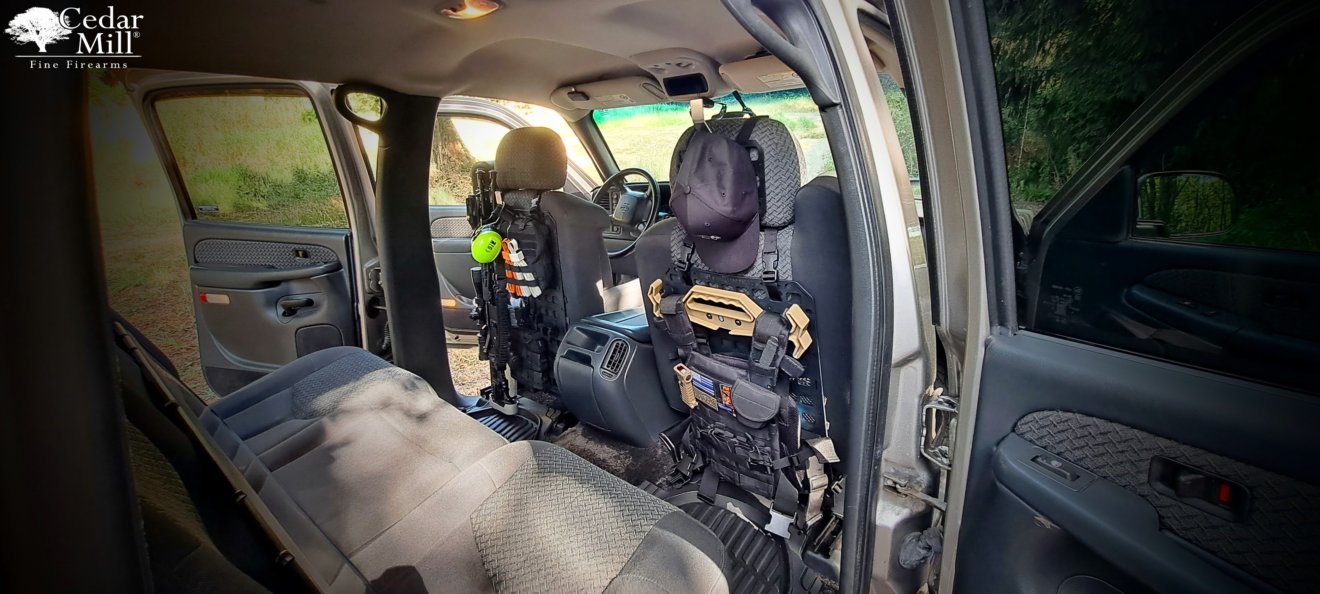 The Grey Man Rigid M.O.L.L.E Panel Seat Back Plate Carrier is an impressive invention that provides top-notch adaptability to accommodate numerous attachments commercially available in the market. The secure carrier design provides ample space to hold the gear without any worries of slipping or falling out.
Although I was highly impressed by this ingenious invention, I have to admit that I was a little hesitant about the cutting process. As a result, when they cut apart the tough hook hanger, there were some rough lines in the finished product. Despite that, the overall experience of using this carrier was fantastic and I would wholeheartedly recommend it to anyone who's looking for a versatile and secure carrier for their essential gear.
Advantages of the Grey Man Vehicle Seat Back RMP - Tough Hook Plate Carrier Hanger
One of the key benefits of the RMP system is its versatility. For instance, you can install RMP panels on the back of driver and passenger seats and reposition or replace them with ease. Moreover, the system's wide compatibility with various pre-made accessories means that you can quickly add more gear to the plate carrier without sacrificing functionality. As most contemporary plate carriers are M.O.L.L.E compatible, you can use the same method to attach accessories to the RMP panel if it were a standalone item.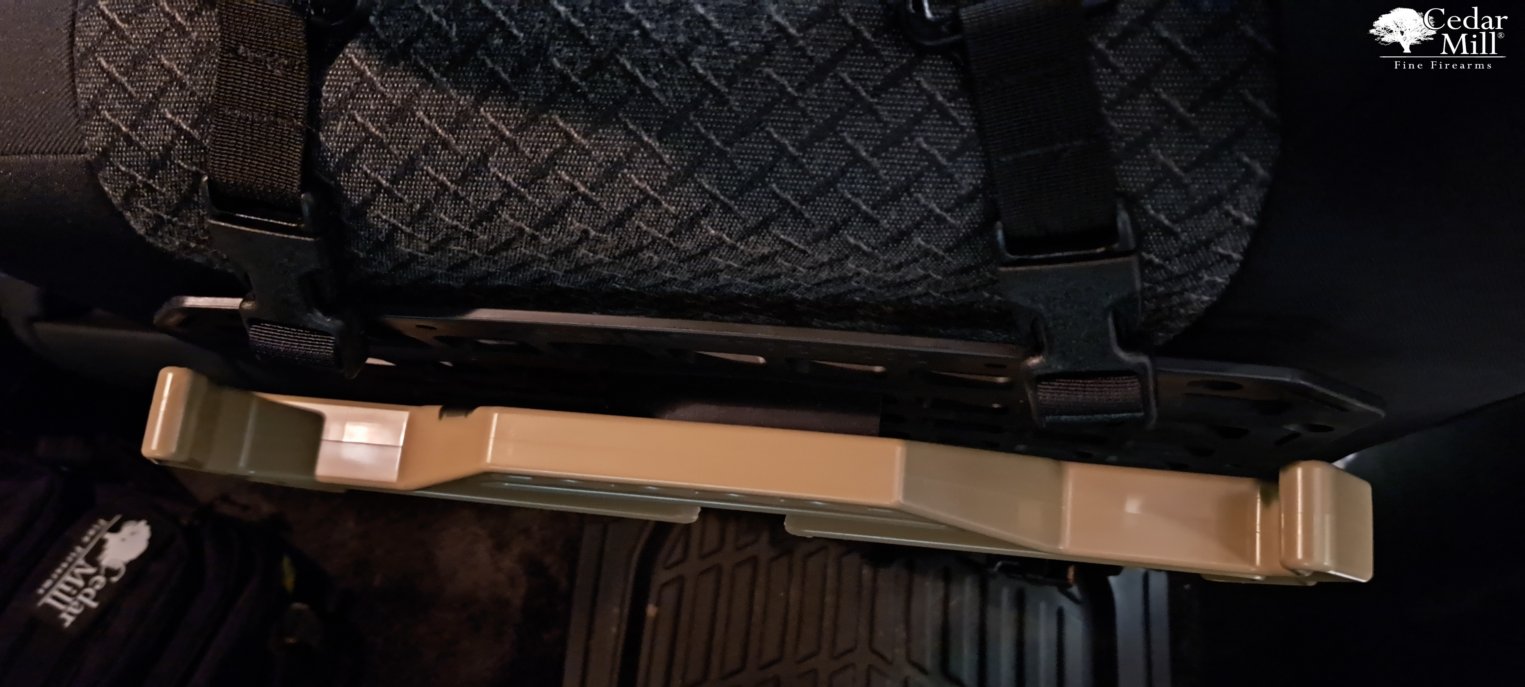 If you prioritize concealing your holster, you may want to consider mounting it behind the rest and against the M.O.L.L.E panel. While this may entail slipping your hand between the RMP panel and your vest to grab your handgun, this approach offers advantages to some individuals. With this approach, you can take advantage of additional concealment while still being able to draw your weapon quickly. It all comes down to personal preference and the specific situation.
Disadvantages of the Grey Man Vehicle Seat Back RMP - Tough Hook Plate Carrier Hanger
There are a few things that I noticed that can be enhanced. The tough hook is not that special. It seems like it may be an improved plate carrier hanger built specifically for the Greyman RMP panel, however, it is a normal tough hook that has been cut to fit the RMP panel, which is a clever alternative. The Velcro used for the headrest helmet hook and RMP panel is another thing that I have observed. Due to its tendency to fray everyday fabrics over time, I'm concerned that the Velcro used to fasten it onto the helmet hook could do the same to my headrest over time.
The Conclusion on the Grey Man Vehicle Seat Back RMP - Tough Hook Plate Carrier Hanger
Overall, for any law enforcement officer or concerned citizen, the Grey Man Seat Back RMP Tough Hook armor plate carrier is an excellent choice. It is not only a secure and dependable solution for your equipment, but it is also versatile and adaptable. Other easily removable accessories, in addition to the tough hook, allow you to attach a regular rigid M.O.L.L.E panel if desired. You can also add useful accessories like first aid kits, tactical pouches, and anything else that is M.O.L.L.E compatible. As a result, the platform is an ideal solution for law enforcement personnel or anyone in a similar field.