Posted by Veronica Arino on Aug 23rd 2019
A deep dive into how to choose your next Kydex holster based on the way you carry your pistol; Types of Carry, and Build Quality Differences of Kydex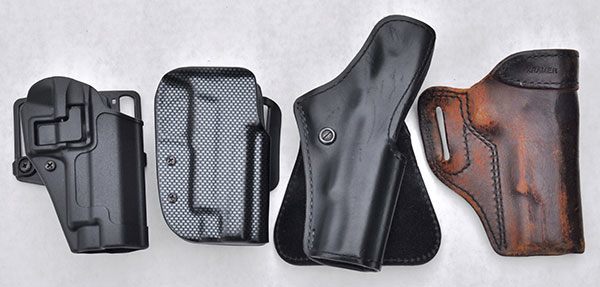 It's not uncommon for prospective handgun buyers to spend hours researching their options before making a purchase. Savvy shooters may even visit a range that rents guns and "test drive" the model they've been eyeing to see how it performs. Unfortunately, many underestimate the important role the holster plays in carrying a concealed handgun.
Since your holster is the interface between your gun and your body, it is unquestionably a vital piece of gear. A poorly designed or ill-suited holster could lead to discomfort, a compromised draw, or even to the loss of your gun.
Here are some tips we've listed to help you find the right holster for your everyday carry:
Tip #1: Quick and Easy Access
Ease of draw is a quality you need to consider. If your firearm is secured by a hasp, clasp, or another device you may be limited in how quickly you'll be able to produce your firearm in an intense moment. Test these features and see how easy it would be to draw under pressure.
The body location you choose as your point of concealment and angle of the handgun may also play a role in how quickly and safely you draw. Some holsters allow you to remove the gun without the muzzle sweeping yourself, while others make that unavoidable.
These are the Top 5 Best CCW Positions:
1. ANKLE CARRY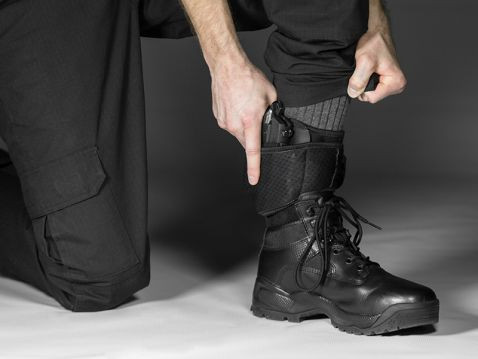 The pistol is kept in a holster wrapped around your lower calf above the ankle. To draw the weapon, you will have to kneel down, pull up your pant leg with your non-dominant hand, and then unsnap the holster. Draw the firearm with your dominant hand.
2. APPENDIX CARRY (IWB)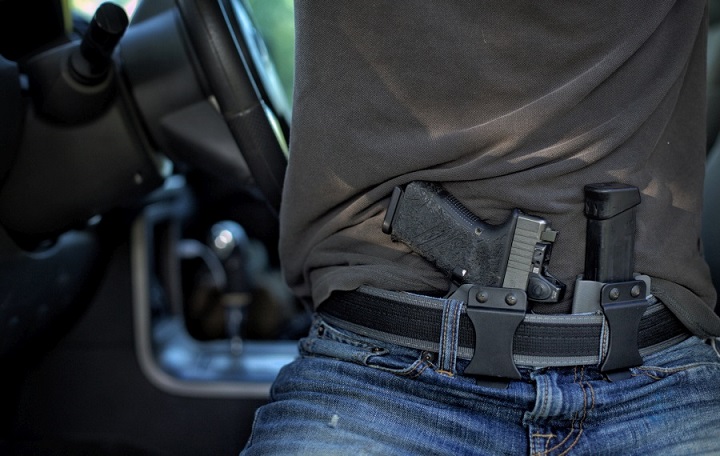 A carry method that has become increasingly popular is the inside-the-waistband (IWB) in the appendix carry position. This means that the pistol is kept in an IWB holster in the front of your waist, or over your appendix.
3. POCKET CARRY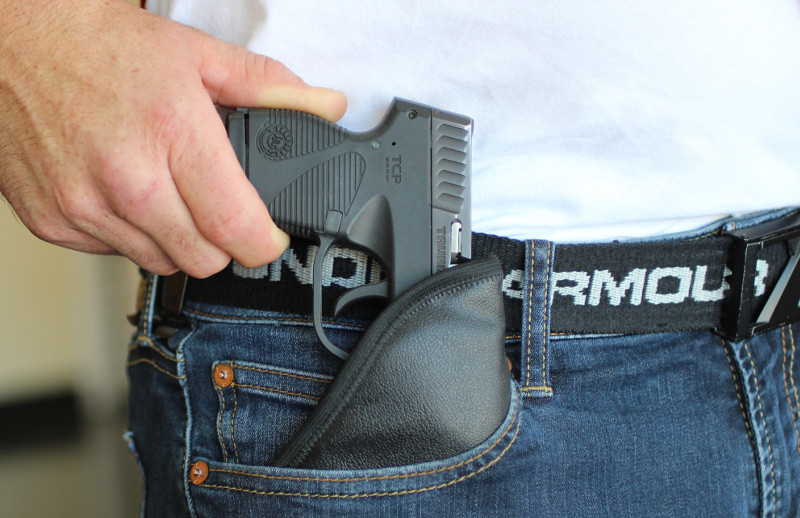 Image courtesy of Cling Holsters
Pocket carry is now so popular that seemingly every major gun manufacturer under the sun makes so-called " pocket pistols."
Pocket carry is perhaps the most popular way to carry the smallest of handguns, such as .380 semi-autos or .38 snub nose revolvers. It's a very discreet and easy method of carry that's great if you have to keep your shirt tucked in.
4. SHOULDER HOLSTER CARRY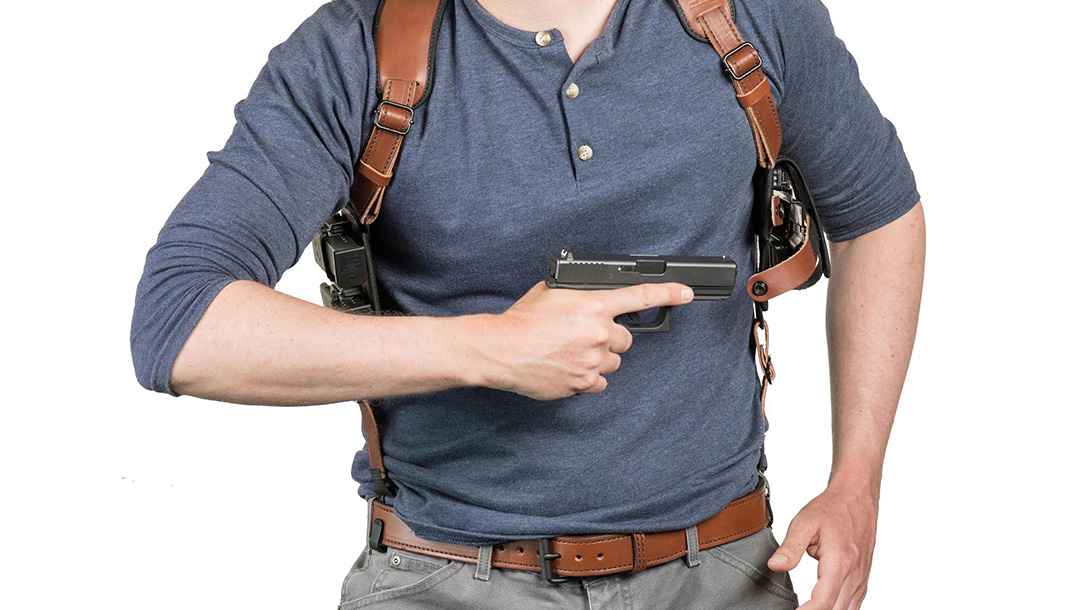 While shoulder holster carry is not suitable for all instances, obviously, it does fit a certain niche very well. The obvious downside is that it requires a jacket or coat in order to keep concealed. So it's only a suitable choice for the fall or winter time and a very bad choice for the summer.
The biggest advantage to a shoulder holster is that it allows you to access your weapon easily while sitting down. Furthermore the pistol is largely kept out of the way while you go about your day. It's also easy to carry two spare magazines or speed loaders to balance the weight of the handgun.
5. STRONG SIDE HIP (IWB OR OWB)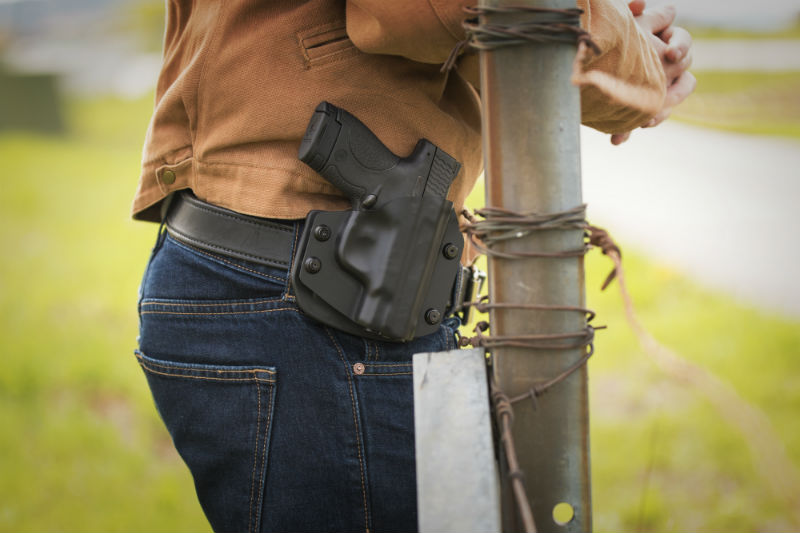 Strong side hip carry, in either an IWB or outside-the-waistband OWB carry, is easily the most popular concealed carry method of all time. It's incredibly fast and easy to draw the weapon with your dominant hand, and it's arguably the most comfortable carry position too.
The biggest downside to strong side hip carry, is the fact that it's difficult to draw with your non-dominant hand. It is also the most obvious location to carry a weapon.
Tip #1: Discreet
Staying discreet is probably at the top of everyone's list. You want a holster that can hold your firearm on your body in a manner that reduces imprinting. After all, the whole point of concealed carry is "concealment." On the other hand, it's not the only quality to consider. If it's not safe, secure, and easy to access, then concealment doesn't help you much.
Tip #2: Protect the Trigger Guard
Trigger guard holsters are designed to cover the trigger while carrying the gun. All the while, these holsters reduce or eliminate altogether the possibility of a foreign object entering the trigger guard and manipulating the trigger. Considering the biggest risk of carrying a gun in your waistband is the possibility of a negligent discharge.
Tip #3: Good Retention
Leather holsters mostly rely upon passive retention or a simple button or Velcro based thumb strap. This arises as a problem when you have to run, roll, or perform any other strenuous movements while carrying the holster. On the other hand, Kydex holsters have retention mechanisms like SERPA and the posi-click audible retention system, which gives them an edge over leather holsters. Kydex holsters are a better option than leather holsters when the point is retention.
Tip #4: Quick Deployment
A lot of people who carry a gun give their holster very little thought. The holster that you use to carry a handgun on the body is as important a consideration as the gun itself. The holster is a vital component in your ability to safely carry and efficiently deploy the gun. Often times when you're in a hurry, you just want to easily put on and off your holster .
Tip #5: Change Holster Position
Comfortability is an important factor when carrying a gun with a holster. It's important that you're able to freely adjust and change your holster position in a way that you can be comfortable in whatever position you may be, be it standing, bending, or sitting.
Both leather and Kydex are widely used and have their own pros and cons. Leather holsters are more comfortable, long-lasting, aesthetically pleasing, and protect the firearm very well. However, they require maintenance, have leaner retention, and are costly.
Kydex holsters are stiff, durable, versatile, don't require any sort of maintenance, and provide a quick draw and reholstering. But Kydex holsters offer limited comfort, are a bit noisy, and might damage the polish of your weapon.
-------
References:
https://gunstreamer.com/watch/leather-vs-kydex-holsters_ZQ9YtxaWuR9hsHe.html