Posted by AJ Koenes on Jul 24th 2020
A review of the Alien Gear Cloak Tuck 3.0 Inside waistband IWB Holster for the Chiappa Rhino 200 DS.
You can buy the Alien Gear inside-waistband holsters on:
The First Impressions of the Alien Gear Cloak Tuck 3.0 IWB Holster
This holder had me intrigued, but not sold on the idea. The cloak tuck 3.0 IWB was a nice holster, but every IWB holster I've owned before has been slightly uncomfortable. The issues ranged from constant jabs on the sides, fiting loose around the belt, or making it so the firearm rides too high on the waist. So, receiving the IWB holster from Alien Gear made me initially skeptical. I was anxious to try it out to see if it offered any differences from the other holsters I've used. Right away I noticed the soft neoprene backing did feel good to the touch while the soft edges indicated that it might be a comfortable fit. I was eager to try it out.
Installation and Setup of the Alien Gear 3.0 IWB Holster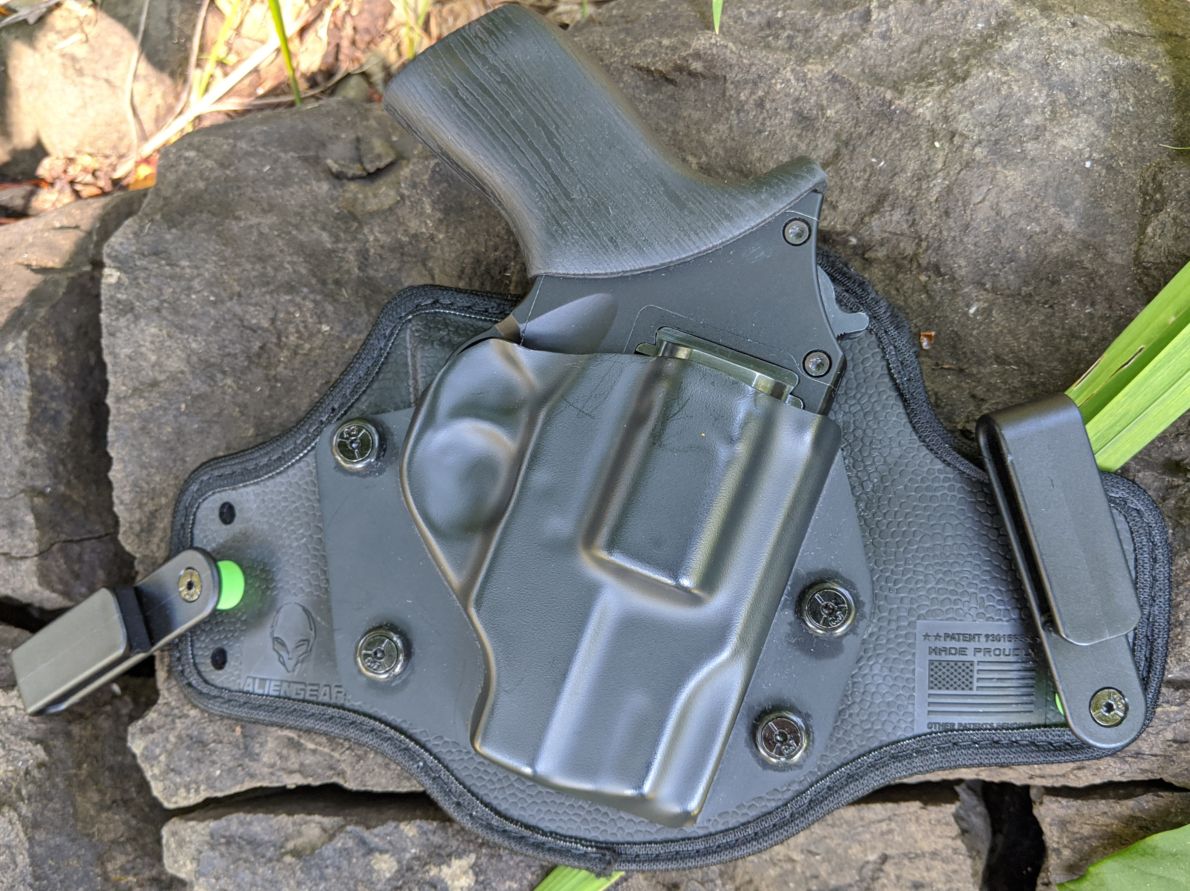 Setup is pretty straightforward. You tuck it inside your waistband around the belt and it secures your firearm. One thing that was mentioned in the instructions is that they found this 4 or 5 o'clock position on the body preferable to a 4 or 3 o'clock position. I had traditionally worn my IWB holsters in the 3 or 4 o'clock positions. I was curious to see if the positioning made a difference. Positioning it the way the instructions said brought it further around the back and directly over the rear pocket. This made me skeptical at first. It was written in the instructions, so I thought I'd give it a try.
I can say without a doubt that the 5 o'clock position is much more comfortable than any position I've worn a IWB holster. The setup of the belt clips was easy. I was able to adjust the vest to tilt the firearm slightly more up. This gave it a slightly more recessed position below the belt line position on my body. I found that this position with this vest was much more comfortable and a lot easier to draw from. I also positioned the vest in a way so that it was not too deep and would not get snagged on my pants when I drew. The clips go around and come off the belt very easily as well.
There's enough flex for them to be manipulated easily, but not so much flex that it comes loose. I found it suitable for dress belts as well as heavy duty belts. They were also easy to change. The adjustment screws for the weapon draw tension were easy to figure out and the instructions provided an adequate amount of detail for this to be done easily. Once they are properly adjusted, the firearm clicks into the holster with excellent positive feedback and it releases from the holster with enough initial retention to prevent the firearm from slipping out. As you continue to draw the firearm out of the holster it becomes easier. This is exactly what you want to see in a holster. With less than five minutes of messing with a holster I was able to have a comfortable while having a seamless draw that didn't yank the pants. This vest was also secure enough to be comfortable for daily wear.
The Specs of the Alien Gear 3.0 IWB Holster
The Alien Gear 3.0 boasts of a durable steel reinforcement base. I noticed there is a rubberized foam padding on the front that rides between the firearm and the plastic shell that sandwiches your pistol together. On the back side, there's a supple and soft neoprene layer that is comfortable against the body. So the reinforced steel must be in between these two layers without ripping the holster apart in a destructive way that would render it useless, I'm unable to verify. There's enough stiffness in the holster for me to believe this to be accurate.
Alien Gear claims there are nearly 600 different handgun models that this holster can fit with. From my understanding, you can easily switch out the plastic shells for different types of handguns. These shells are also interchangeable across several different types of Alien Gear holster. Looking at it, it appears that I can switch out my H&K USP compact shell and place it on the IWB holster if I want to wear my H&K inside the waistband. I can also take the shell for my Chiappa 200 D.S that I removed from the IWB and put that on my chest holster if I want to wear my Chiappa Rhino on my chest rig. The modularity and interchangeability of the holsters is astounding, especially considering the record of different handgun models available.
Alien Gear also provided new clips that ensure quick and convenient adjustments. I'd say they hit the nail on the head with this detail. The clips are definitely easy to adjust and convenient. I've been very impressed with the clips.
The last improvement the Alien Gear mentions is improvements that focus on all-day comfort and concealment. Now, what these improvements are, I'm not quite sure. I can say that the holster does provide day-long comfortability and while doing a great job concealing of your firearm. It is definitely better than any holster I currently own and I'm impressed by the little amount of footprint left when wearing a tighter t-shirt.
The Field Test of the Alien Gear Cloak Tuck 3.0 IWB Holster
I field-tested this holster for several days, wearing it daily for about a week. While I work around the house and in the field, I found the holster to be very comfortable. It was comfortable enough that the holster was actually put out of my mind for the majority of the day.
When at home, there were a few instances in which I had to remove the holster. The first time I had to take it off, was while sitting in my office chair with lumbar support. The grip of the handgun tends to jab into the lumbar support, leaving it less than comfortable. When it came time to eat at the dining room table with high curved back wooden chairs, the same thing would happen with a side jab. This was the second time I found myself taking the holster off.
Those are the only two situations I found myself uncomfortable with this holster. The rest of the time, it sat between my belt and my body unnoticeably throughout the day. The draw from the holster was always easy and convenient. Being in a new position for me, it took a little bit of practice to remember where the grip was oriented on my body. Once this was overcome, it was easy to draw and my draw speed increased as I practiced.
Re-holstering the firearm proved to be a bit more difficult. Remembering that it was further back on my body was easy to get used to with practice, but the muscle memory was lost several times. After a draw or two, the muscle memory came back and I got used to the new position. It wasn't as easy to holster the firearm as it is to draw it, but it was still adequate enough to meet my needs.
Pros of the Alien Gear Cloak Tuck 3.0 IWB Holster
The pros of this holster would be that it is the most comfortable IWB holster I have ever worn. The soft and supple neoprene backing does not chafe while holding secure against both clothing and skin. The plastic shelling clips that ride against your jeans and wrap against your belt are firm, easy to use, and easy to adjust. The rubber gaskets that hold the clamshell to the holster do not become loose after repeated use and the holster shows little signs of wear after daily repeated use. The length of the holster is easy to wrap around a relatively small body yet is versatile for all body types.
The footprint against your clothing is minimal. I do not own another waistband holster that leaves less of a footprint than the Alien Gear Cloak Tuck. I am thoroughly impressed with this holster.
Cons of the Alien Gear Cloak Tuck 3.0 IWB Holster
There are very few cons to this holster and as I look over it very, very carefully, there is only one thing I see worth noting as a con. On the very top of the holster, against the rubber grip of my Chiappa, there is some slight fraying on the elastic band that attaches the foam front to the neoprene backing. This little bit of fraying is a bit unsightly, but it doesn't detract from the usability or comfortable nature of this holster. As I look it over thoroughly, there really is not another negative thing that I can point out with this holster.
My Final Thoughts on the Alien Gear Cloak Tuck 3.0 IWB Holster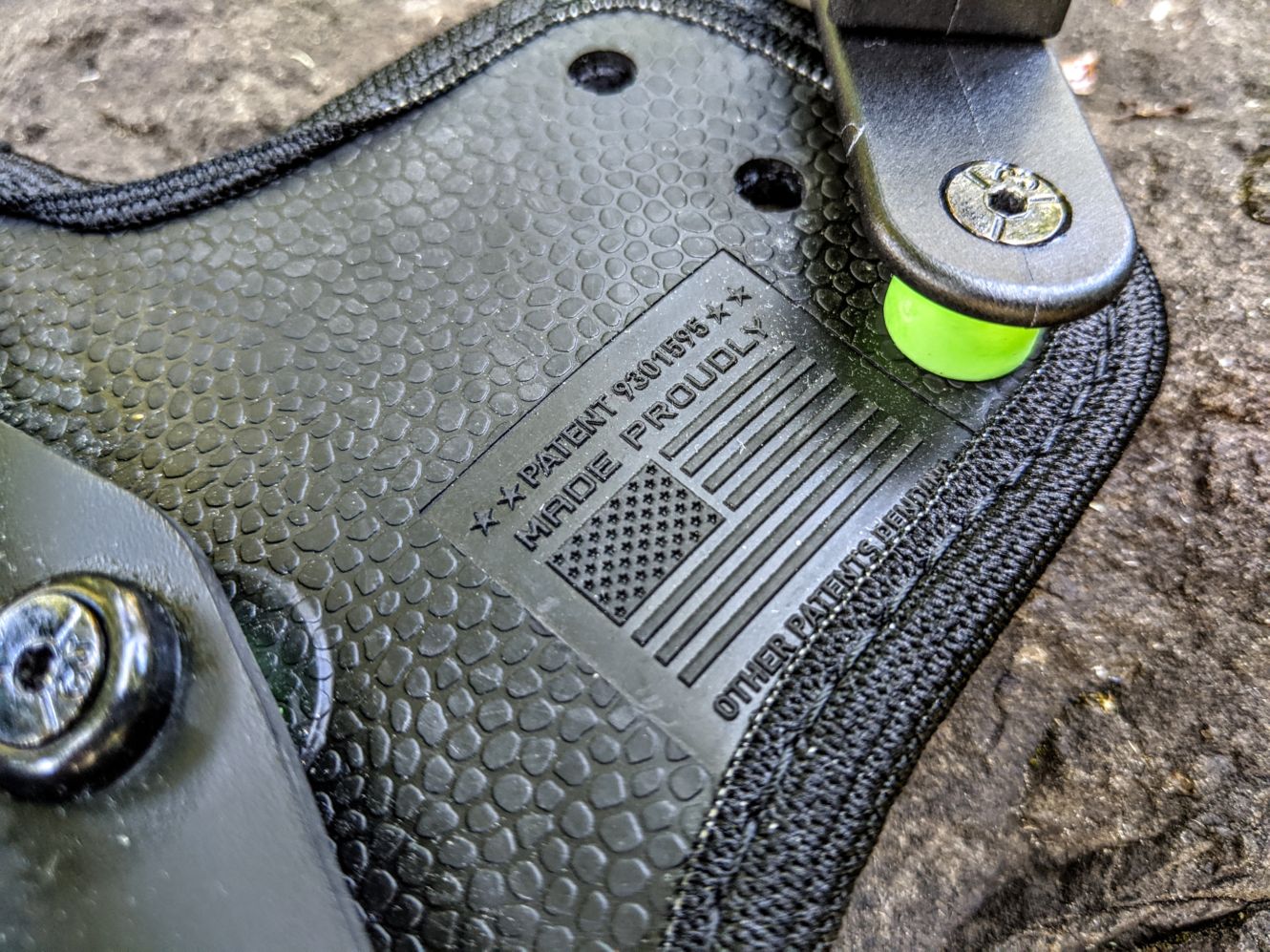 My final thoughts… This holster is not just another mediocre IWB holster. I left thoroughly impressed by this product and I now enjoy wearing it daily.
I am shocked at the quality and usability of this holster. I have been converted from someone who thought all IWB holsters were adequate, to someone who has now become an advocate for Alien Gear. The ease of use and comfortability is astounding. The lack of a footprint is even more impressive. I'm shocked at how such a simple holster can be set so far apart from their competitors. The proudly made in the USA stamp on the front of the holster also brings a degree of satisfaction knowing that an American company can bring a product to market that is vastly superior, yet competitively priced with their competitors.
I'm completely sold on this Alien Gear holster and will enjoy using it as my primary CCW holster moving forward. If you're thinking of buying an IWB holster, rest assured, there is a difference. Alien Gear, in my opinion, is set apart from their competition when it comes to their waistband holsters.
As you read this review, you may notice that they have a 3.5 and a 4.0 IWB holster that they recently brought to market and I'd be excited to see what improvements these holsters bring. As impressed as I am with this holster, I'm shocked that they're able to continue to improve on such an excellent product.