Posted by AJ Koenes on Jul 21st 2023
Featuring a beautiful finish and exceptional fit, build your perfect AR-15 exactly the way you want it.
The White Label Armory 16" AR-15 Complete Premium Upper Receiver is the perfect upper for any lower. Compatible with all Mil-Spec AR-15 lower receivers.

I received the White Label Armory Upper in a beautiful but lengthy craft box. The bolt carrier and a billet charging handle were included with the upper receiver, which was well-wrapped inside and out. The upper receiver was well-aligned and had a good finish, and the attention to detail stood out. It was apparent that the White Label Armory put a lot of effort into making sure that I received their product intact. The packaging itself wasn't overly branded or colorful; it was simply average. The bolt carrier fits nicely within the receiver. The billet charging handle appeared average; I would research it further later, but my next step would be to connect the upper receiver to my lower receiver.

The installation and setup were excellent. That may sound like a sweeping generalization, but I've had numerous less-than-perfect upper receiver installations in the past. The phrase mil-spec refers to military standards, but it does not imply that they are set in stone. Parts that were once considered mil-spec had only an 80% chance of functioning correctly 10 or 20 years ago, especially if they were produced by different manufacturers.
This White Label Armory receiver easily snaps onto my lower receiver. Aside from minor variances in the finish, you'd have a hard time telling me this isn't the upper receiver that came with the rifle. The fit was more snug than many factory uppers and lowers. There is little movement between the two receivers. To ensure a perfect match, no modifications or filing were required. The bolt carrier and hammer's alignment was correct.
Specifications for the White Label Armory 16" AR15 Complete Premium Upper Receiver
| | |
| --- | --- |
| Package Contents Include: | QUANTITY |
| 16" Barrel, 4150 CMV, Mid-Length, 1:7 Twist, Government Profile | 1 |
| 15" Premium Free Float M-LOK® Handguard | 1 |
| Forged 7075-T6 Upper Receiver, Hard Coat Anodized | 1 |
| BCG by DRG: 9310 Bolt, Billet Extractor, Blacknitride+™ by H&M | 1 |
| A2 Extended Flash Hider, Blacknitride+™ by H&M | 1 |
| | 1 |
| | |
It took some time, but I eventually obtained a dry day in the Pacific Northwest in early 2022. It was a wonderful day to go to the range and try out my new upper receiver. This DoubleStar lower had been with me for almost a decade and was my dependable carry rifle, so it was only natural that I mount it to a 16" M4 upper. When attempting to produce tight clusters past 100 yards, the standard 16" M4 upper wasn't up to the task. Like most M4s, it could handle just about anything; however, as a budget rifle, its accuracy was about as bad as you can get.
Today I had the opportunity to review a unique item. The Black Hound Genesis Scope is what I used, and I wanted to install it on a receiver that would suit it. That's why I went with the White Label Armory 16" Receiver in conjunction with the Black Hound Genesis Scope because of its custom-designed 4150 CMV barrel with a 1:7 twist. This receiver has a 4150 CMV barrel, which you may recognize as being Colt Firearms' designated mil-spec gun steel for the M16 and M4 rifles. The 1:7 twist is also rather typical on most military-spec rifles. The handguard extends considerably past the barrel, which has M-Lok serrations around it to aid with keeping the barrel cool and set you up for a modern M-Lok platform.

The receiver is machined and forged from 7075 aluminum. The T6 temper is extremely robust, and it works well for an upper receiver. DRG created the bolt carrier group out of 9310 stainless steel, which isn't your typical stainless steel. It's a super hard tool metal that's frequently utilized in gears, crankshafts, and the aircraft industry.
The charging handle, like the magazine release, is also made in the United States. You'll note that it resembles other AR-15 charging handles and there isn't anything distinctive I can say about it. But when you assemble all of these components, you have a beautiful upper receiver that is well-constructed and performs its function admirably.
Results of the Accuracy Testing for the White Label Armory 16" AR-15 Complete Premium Upper Receiver
It took me two days to be satisfied with the receiver. It took quite a while for me to get the shots on paper and have the Black Hound Scope sighted in on the first day. The remainder of the day I spent playing with different features and seeing how well the rifle performed. After sending hundreds of rounds down the range, I was happy with the scope but was unimpressed by the upper receiver.
I was shooting a 55-grain bullet in a 1:7 twist barrel at the time, but even with the mismatch, I expected better. That's why I went to the range on the second day to see what I could learn. On the second day at the range, things got off to a roaring start. My primary aim on this day was to have my shots snugly grouped so that they would meet standards. On the second day, I had a few difficulties. I had not decided to clean it, so when the bolt carrier was chambered, it wouldn't seat correctly. This gave me an excellent chance to use the forward assist, which performed as expected.

I squeezed off one bullet at a time after the rifle was in battery. My shot groupings improved as I refined my aim on the bull's eye and I got tighter and tighter groups throughout the day. Halfway through the day, I was hitting the target consistently at 100 yards and 200 yards. Toward the end of the day, I was having a great time shooting gongs out to 300 yards. This upper receiver takes some time to break in, according to what I learned.
The other thing I want to touch on is the fact that this is a pretty solid upper receiver. It's well-built, already very accurate, and from day one it functioned flawlessly. This was also to be expected, but when you have such a well-built receiver, you expect everything to work from the start. I forgot that I was the first person to shoot a few hundred rounds down this barrel. After some use, I was pleased with how effectively the White Label Armory 16" Upper handled things.

There are several advantages to this upper receiver. Let's start with the price; it is under $500 and currently sells for $455.95, which isn't too remarkable considering the abundance of low-cost upper receivers on the market. Consider this: This upper receiver is made entirely in the United States, with no parts or pieces being outsourced outside of this country.
When you take into consideration that it was entirely created in the United States and still costs less than $500, this is rather astounding. The free float 15" lock handguard performs effectively. It's smooth, so your hands won't get cut up, yet it provides a sturdy foundation for your barrel and accessories. The A2 extended flash hider is a little strange and lengthy, but after you get used to it, I think it looks great and works well. You will also receive a bolt carrier group and a charging handle as part of the package. Simply attach this to your lower receiver and you're ready to go. Once it had broken in, the performance was amazing, and the finish was perfect right out of the box.
Drawbacks to Consider When Using the White Label Armory 16" AR-15 Complete Premium Upper Receiver
Your bolt carrier group and billet charging handle are included with the upper. This charging handle is made in the United States, but to be honest, it isn't anything special. It's just a regular charging handle; there aren't any special characteristics to it that set it apart from other charging handles. It's wonderful that it's part of the package, but I may look for a different charging handle now that I've added a scope to my AR. The military-style charging handle was designed for open sights and works well with them. Depending on the dimensions and location of your scope, the charging handle may be obstructed. I was able to shoot my rifle with a scope, but I wasn't as quick as I would have liked without having an extended charging handle.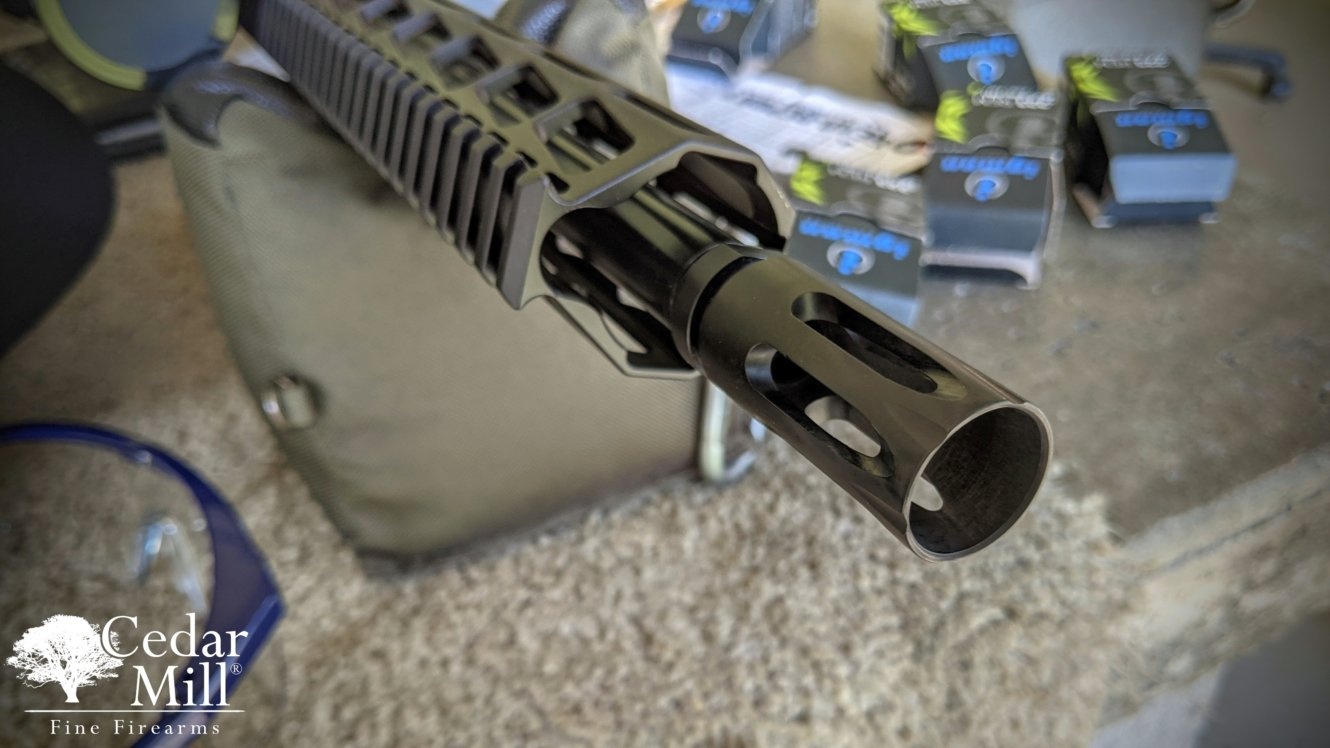 The Final Impression of the White Label Armory 16" AR-15 Complete Premium Upper Receiver
Overall, this is a fantastic upper receiver for the money. I'd spent time and money installing a LaRue trigger, custom pistol grip, and Command Arms Accessories buttstock on a previous M4 with an excellent lower receiver. The rifle should be a great mid-range weapon. Unfortunately, the standard upper drained the lower receiver. With the White Label Armory 16 Inch Upper, I was able to finally feel satisfaction from my efforts on the lower receiver after years of frustration. I never believed a secondary upper receiver would be superior to the factory unit supplied with a rifle, but I was wrong; the White Label Armory is an excellent receiver and with attention to detail and carefully handcrafted craftsmanship, they also provide a high-end AR-15 barrel for a reasonable price.
I'm ecstatic. I'm certain I can get heavier bull barrel upper receivers, longer upper receivers, and anything else you can think of for my purpose. This is a fantastic fit for me since it allows me to carry a rifle that shoots 500+ yards while remaining lightweight and compact at the same time. It now sits in my Greyman Tactical Rifle Rack behind my driver's seat in my Chevrolet Avalanche, ready on demand.