Posted by AJ Koenes on May 19th 2023
Top 7 .380 Pistols For Concealed Carry: Your Ultimate Guide to Reliable Self-Defense Weapons in 2023
Stay protected and concealed with the power of the .380 pistol. Discover why it has become a popular choice for self-defense, and explore our reviews and buying tips to find the perfect concealed carry weapon for your needs.
Are you looking for a reliable self-defense solution and the perfect concealed carry? Look no further than the .380 pistol. Known for its effectiveness in personal safety, this popular firearm is growing in popularity as more people look toward concealed carry options. But with so many models to choose from, how can you find the best .380 pistol for your needs?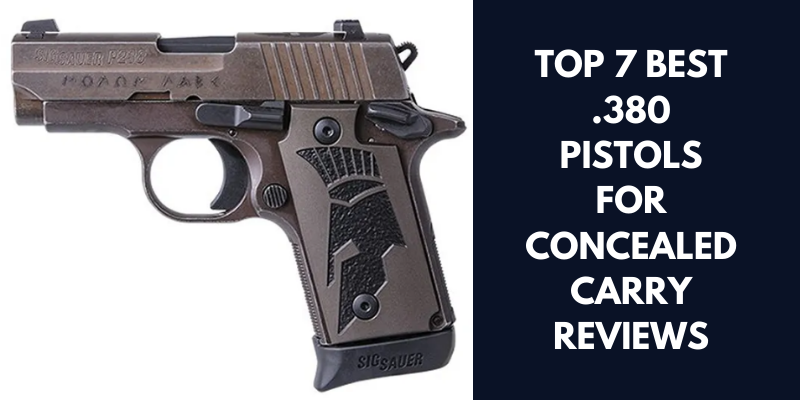 We've rounded up seven of the top .380 pistols for concealed carry and compiled reviews to help you decide. Whether you're a seasoned gun owner or new to the world of firearms, our guide will provide all the information you need to make an informed decision about a weapon that can protect your safety.
Pocket Rockets
When it comes to concealed carry, the best .380 pistols are often referred to as "Pocket Rockets". These pistols are ideal for IWB (Inside-the-waistband) carry and can be easily concealed in a reasonably sized pocket, under the arm, or even inside a bra.
However, it's not enough for a gun to be small and easily concealable. It should also be accessible and easy to handle in an emergency. Fumbling around and struggling to get your firearm into the 'ready' position can be a nightmare when seconds matter. That's why choosing a well-designed and reliable .380 pistol is essential for personal safety.
Perfect for Concealment, but Will this .380 Pistol Stop an Attacker?
Carrying a concealed weapon for self-defense means exactly that. You want the gun you are carrying to be effective when it comes to stopping your assailant. This means that you need to be aware of exactly what your chosen .380 pistol can do. Understanding the effectiveness of a .380 pistol in stopping an assailant is crucial for personal safety. It's not just about the type of ammunition used, but also the recoil of the firearm and your ability to handle it accurately. We will delve deeper into these factors in the upcoming sections of our guide.
In our buying guide section, we will get into the different types of ammunition available and what effects gun recoil. We will also touch on the all-important matter of efficient, accurate use of the most reliable .380 pocket pistol models. But first, let's take a look at our top seven picks for the best .380 pistols for concealed carry. While this list is not exhaustive, we've carefully selected a diverse range of top-performing models from different manufacturers. Our picks include the best full-size .380 pistol, the most reliable .380 pocket pistol, and much more.
If you are looking for a pistol, then Ruger will certainly not disappoint. In terms of the best/most reliable .380 pocket pistol models, their LCP II is certainly worthy of consideration.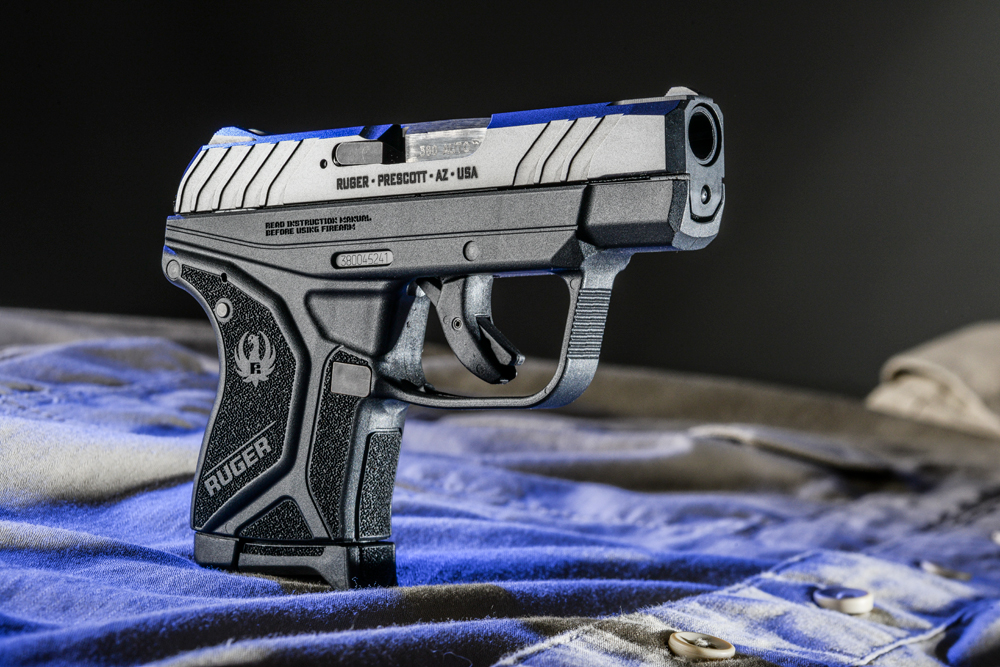 Image from Gun Digest
An upgrade to the popular LCP model
The original LCP (Lightweight Compact Pistol) was undoubtedly a highly popular pistol. With its refinements, the LCP II is a much-improved offering. It has to be rated in the best .380 pocket pistol category.
What Are You Buying Into?
This best .380 concealed carry pistol comes with a polymer frame and plain muzzle. It has a barrel length of 2.75 inches. Other dimensions are 3.71 inches tall by 0.75 inches wide and an overall length of 5.17 inches. It certainly will not weigh you down; it comes in at just 10.6 ounces in weight. Capacity-wise, you are getting a 6-round magazine with one in the chamber. It takes .380 Auto ACP cartridges and is recoil-operated. Improved sights are yours. Both the front and rear sights are fixed to enhance visibility.
Trigger and Grip Benefits
The original LCP model's trigger gave some concern. However, this upgraded, highly reliable .380 pocket pistol features a single-action, short and crisp trigger with inner trigger safety included. Staying on safety, this best .380 pocket pistol also has an easy-to-rack slide. This comes with an improved slide-stop mechanism with a last-round hold-open feature. As for the grip – You are getting a larger grip surface, this helps to better distribute recoil.
Snag Free Pull
We touched on ease of access for the best .380 concealed carry pistols. The Ruger LCP II achieves this thanks to its smoothed edge finish. It is ideal as a pocket-holster to carry a gun.
Simplicity is The Key
The most reliable .380 pocket pistol models have one thing in common: Simplicity of use. The LCP II is a point in case. This user-friendly gun has controls that consist of a magazine release and slide release plus an easy pull trigger that has integrated safety.
Looking for a Laser?
The excellently priced Ruger standard LCP II model comes without a laser sight but can take one at a later date. However, those who know they want a laser attachment immediately to deal with any low light conditions have an option. They can purchase Rugers' all-inclusive laser attachment offering. The same gun, but it comes pre-installed with a Viridian Laser.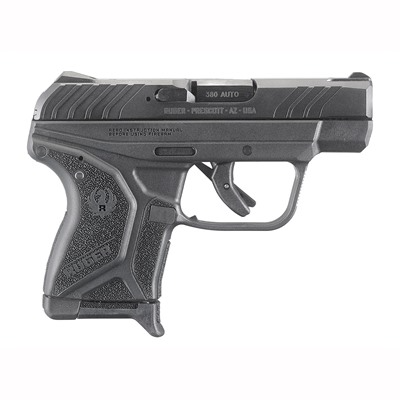 PROS
A very popular pistol.
Ease and speed of use are yours.
Improved trigger and safety.
Easily concealed, and easy to draw quickly.
A model that allows a Laser to be added down the line and a Laser-inclusive model.
Popular with Law Enforcement as a backup weapon.
CONS
Comes with one x 6 magazine only.
Recommended to purchase an extra cost of a spare magazine and have it loaded/ready/with you at all carrying times.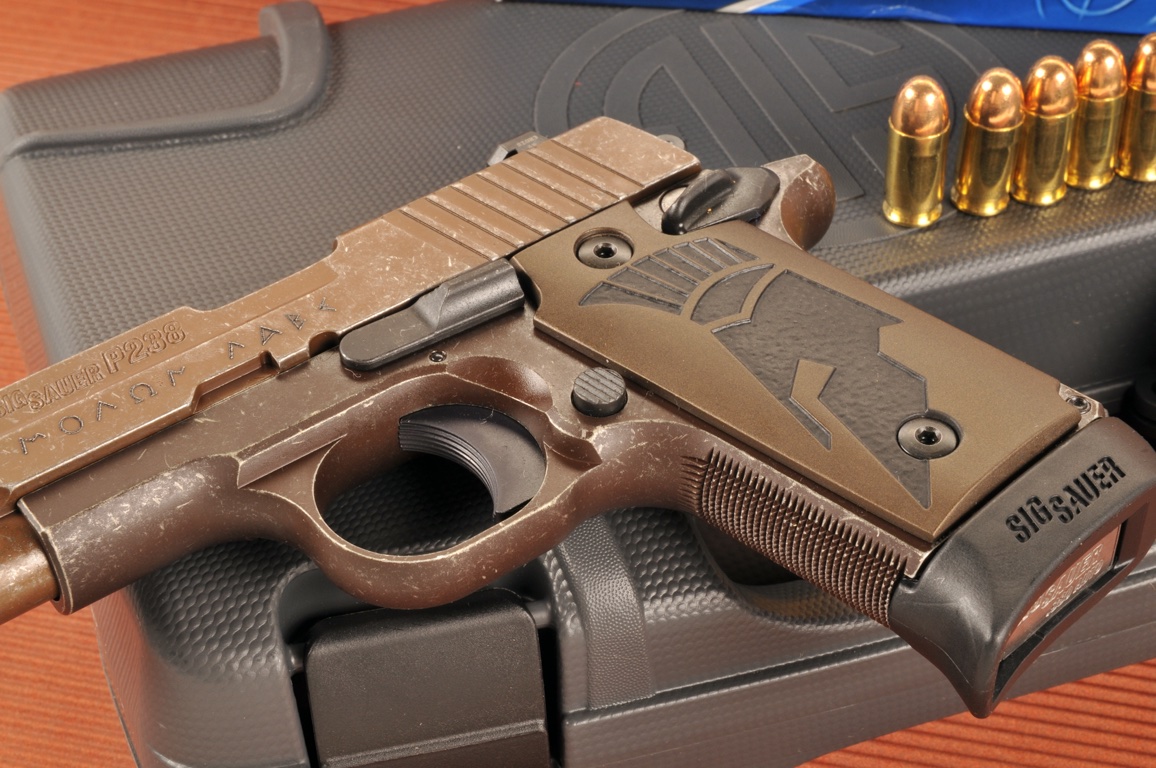 Image from Armi Magazine
We are certainly moving up a few notches in price with this best .380 pistol. The P238 Spartan II is from the renowned pistol manufacturer Sig Sauer.
If it is a Stylish, Stand-Out Design You Are After – Look no further!
The custom finish is yours with this best .380 pistol. It is finished in a coyote-tan and engraved with the famous King Leonidas' "MOLON LABE" saying which means "Come and take them." The Spartan theme continues on the grips with inlaid 'Spartan Helmet' panels. If you are looking for a unique, best .380 pocket pistol design to "Wow," the P238 Spartan II is for you.
High Quality – Highly Durable .380 Pistol
The P238 Spartan II is one of the most reliable .380 pistols on the market. The pistol has a stainless steel frame that is paired with the same material slide. This metal-framed approach is not seen in many other best .380 concealed carry pistols. What it does show is the SIG's commitment to quality build.
Due to its construction material, the P238 weighs in at 15.2 oz. This is heavier than the other best 380 pistols we have listed. The build delivers what it promises: High quality, durability, and robustness for the everyday carrying it needs to withstand. It has an overall length of 5.5 inches, a barrel length of 2.7 inches, and is chambered in .380 ACP. Included in the purchase price is a 1 x 7-round magazine. You also get quality SIGLITE night sights and an excellent trigger for your money.
Experienced 1911 Shooters Will Appreciate the P238
If you have experience with 1911 pistols, then this SIG offering is even more suitable. The P238 combines all 1911 standard controls into one small, compact package. Examples here are manual thumb safety along with the single-action trigger. Perfect as a best .380 concealed carry pistol.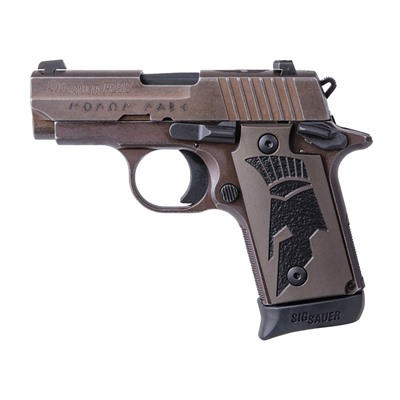 PROS
Super cool, stylish design.
High quality.
Durable.
Reliable.
1911 shooters will appreciate the controls.
CONS
Trickier than some of the other .380's to disassemble/assemble.
On the heavier side for all-day IWB carry.
Pricey.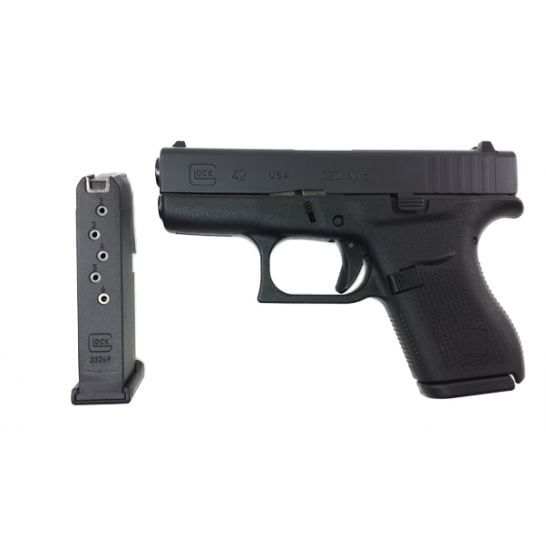 Glock by name, Glock by nature – You know what you are getting with Glock. Quality, reliability, and huge popularity. The Glock 42 is the largest pistol on our list but must be ranked amongst the best .380 pistol full-size models available.
'Large' .380 Pistol Put Into Perspective!
As mentioned, this is the largest of our best .380 pistols reviewed, but size needs to be put into perspective. The Glock 42 .380 ACP has a polymer build and is the smallest pistol Glock has ever released. It comes in at 5.94 inches in length, 4.13 inches high, and 0.94 inches wide. The right-hand twist barrel is 3.25 inches long. In terms of weight, it is 13.76 oz unloaded and 17.29 oz fully loaded with its 6+1 round single-stack magazine. So, size wise it is not that much larger than other best .380 pistol full-size models, but it is still small and light enough to carry in a jacket pocket without a problem.
An upgrade to the popular LCP model
The trigger functions in the same way as its big Glock brothers. With a 42 model, you have a 5.5 lbs trigger pull. It is used by Law Enforcement officers as a backup weapon. This should tell you that in case of emergencies, it is easy to draw and straightforward to fire from your chosen concealed holster. An additional advantage comes from the high-profile sights. These make aiming far easier.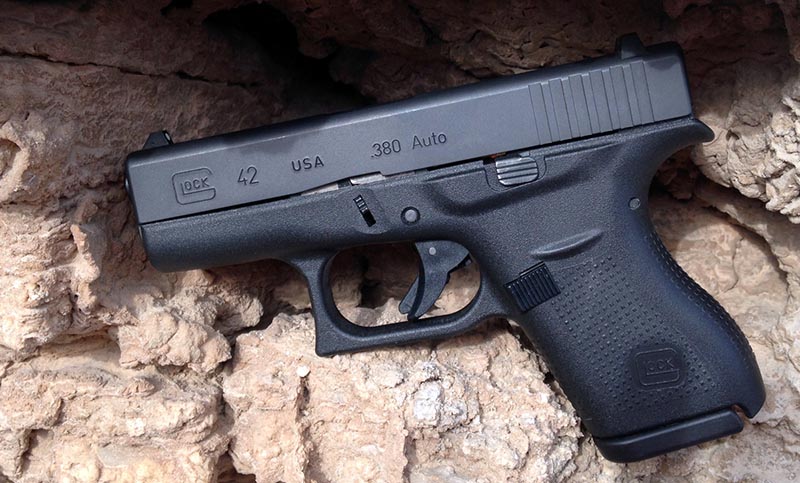 Image from Concealed Carry
PROS
A proven best .380 full-size weapon.
Functions like a 9mm.
Particularly effective if you know where to hit your target.
Reliable.
With the correct holster, it is very easy to draw and fire.
High-profile sights = easy aiming.
CONS
No manual safety features.
Magazine capacity of 6 rounds.
Larger than other pocket pistols.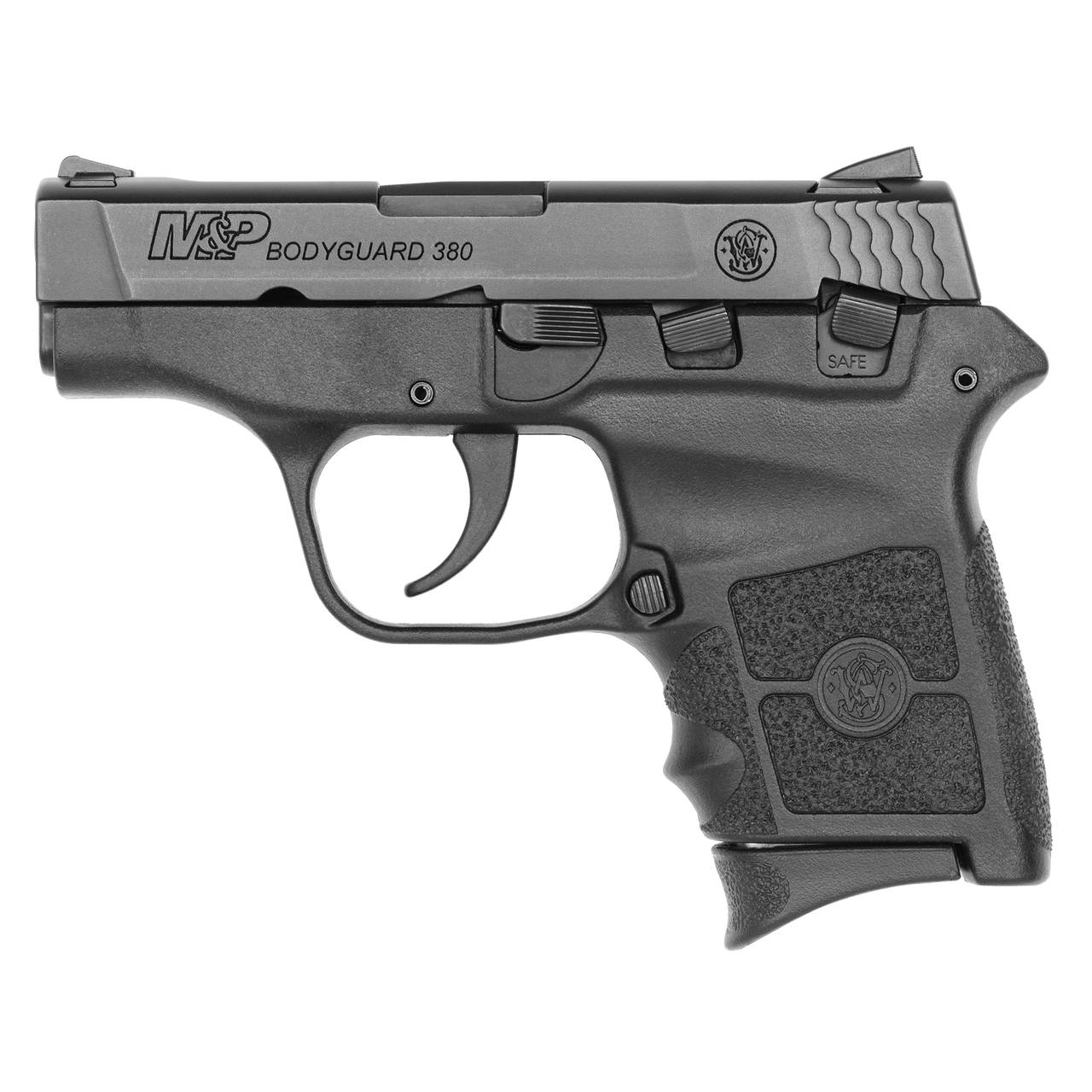 Yet another famed handgun manufacturer. Smith & Wesson (S&W) has been producing solid, reliable weapons for decades. The model we are reviewing in our best .380 pistols for concealed carry is their M&P Bodyguard .380-without laser. This is the S&W answer to the Ruger LCP II we reviewed earlier. It rates among the most reliable .380 pocket pistol models on our list.
S&W's Smallest .380 Pistol to Date
This is the smallest handgun S&W has ever released and has to be rated as one of the best .380 pistol full-size models. For the record, M&P stands for Military & Police. The design is based on larger S&W handguns in this format but has been compacted in size and re-chambered for .380 use. One thing you can be assured of: This best .380 pistol has retained that lethal capacity to stop assailants in their tracks.
Hammer fired – Not Semi-Automatic
The Bodyguard 380 pistol is hammer fired as opposed to semi-automatic. This means it is double action only (hammer-fired). You should expect a long trigger pull prior to the hammer striking the primer.
It has a capacity of 6+1 rounds. Sufficient if you are accurate, but always worthwhile keeping an extra, fully-loaded magazine close to hand.
Compact quality
You get a quality stainless steel slide. This has been black anodized to ensure blending with the rest of this best .380 pistol. Its compact, polymer frame size is highlighted with a stainless steel, 2.75-inch barrel. In terms of overall length, this best .380 pistol is 5.3 inches. Weight-wise it is 12 oz. (0.75 lbs) unloaded, but don't worry, even loaded it is light. Both front and rear sights are made from stainless steel and are drift adjustable.
Magazine Options to Consider
It is usually the case that you can buy the Bodyguard 380 with 2 x 6-round magazines. The first supplied magazine comes with a flat-level base. The second has a neat finger extension that will support your little finger. This latter feature should give you a more solid grip.
Laser Version Available
For those in need, there is a laser version that comes equipped with a Crimson Trace laser. Obviously, this will add to the cost but is a very useful addition for shooters looking at a laser attachment from the get-go. This .380 pistol has to be ranked among the most reliable .380 pocket pistols out there — small stature – powerful performance.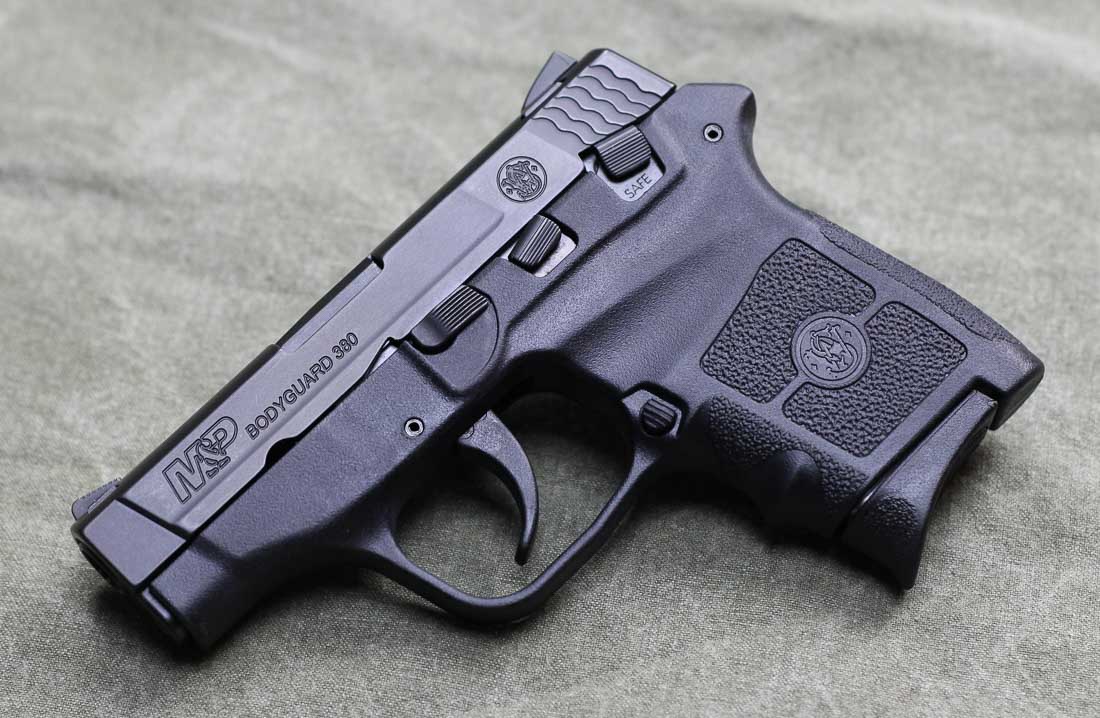 Image from Gun Holsters and Gear
PROS
From a high-pedigree gun manufacturer.
Solid, stainless steel inclusions.
Front & Rear sights are drift adjustable.
Different style magazines are available.
CONS
A lot of safety locks, but not that easy to disengage. Practice is a must.
9.5 lbs trigger pull – Heavy for a gun of this size.
Not the cheapest pocket rocket on the block.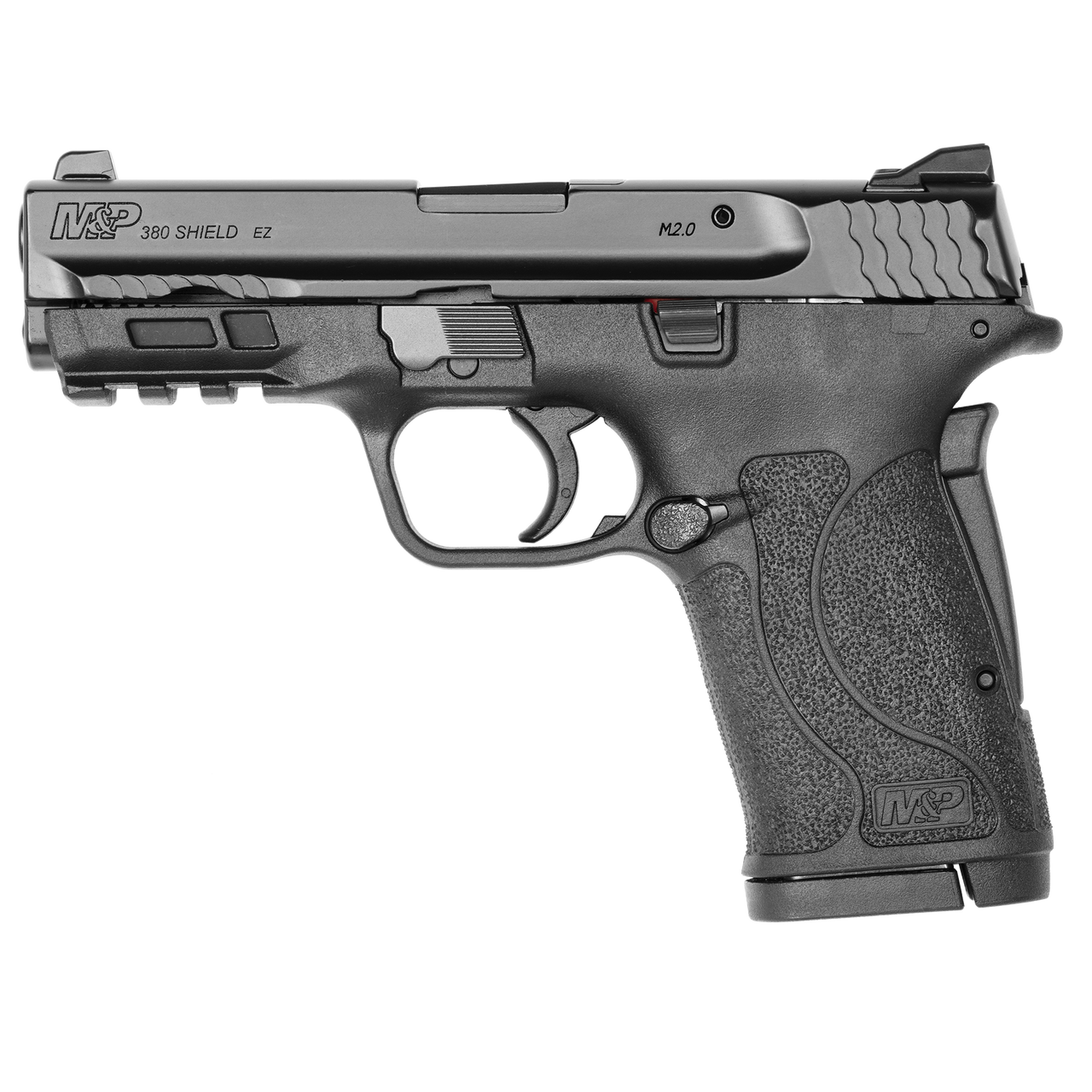 This is our 2nd S&W model reviewed. We make no apologies for including 2 of the best .380 pistols for concealed carry from this highly respected pistol manufacturer. S&W does produce quality pistols. Their M&P 380 Shield EZ 2.0 is another fine example of this.
An Upgrade to the Popular LCP Model
Major specifications include a Barrel length – of 3.68 inches, an overall length of 6.70 inches, a height of 4.90 inches, and a width of 1.07 inches. Single action only (SAO), weight loaded 21.6 oz. (1.35 lbs), trigger pull -4.5 lbs.
A Solid Choice for Beginners
This best .380 concealed carry EDC (Everyday Carry) pistol is very easy to operate and has been designed with safety in mind. These two factors make it ideal for new and inexperienced shooters. The M&P 380 Shield EZ's design means less force/strength is required when racking back the slide. It also has deep serrations on the slide's rear that increase the gripping surface and further assist with racking
A Reliable Grip
Staying with the grip, it comes with what is termed as "aggressive texturing." This design feature means the pistol stays firmly anchored in the shooter's hand. This is a big advantage not just for racking the slide but helping to control recoil. The grip angle of 18 degrees also affords a natural point for aiming.
Crisp, different style trigger
It comes with a single action trigger that gives a crisp break and a distinctive reset sound. This will help breed confidence in use. It means the shooter will feel and hear the trigger action. The precise trigger control on the M&P 380 differs from other models in the M&P line. This trigger does not come with a built-in passive safety feature. Instead, there is a grip safety feature.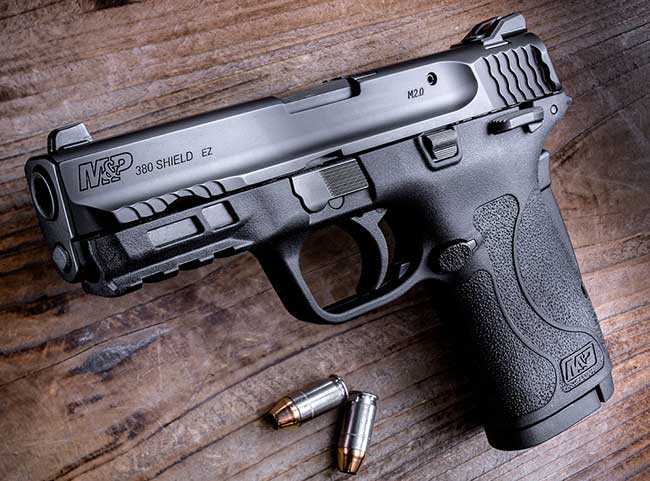 Image from Versacarry
Other Features Worth Noting in a .380 Pistol
With this best .380 pistol, you get three white dot sights – the rear sight is windage adjustable. The under-frame Picatinny rail makes light or laser sight mounting easy, and there is a visual/tactile loaded chamber indicator. As for cleaning, disassembly is very straightforward. This feature has to be seen as convenient for novice shooters. All-in-all, this can be classed as one of the easy-to-use, easy-to-clean, and easy-to-load, high-capacity .380 pistols on the market. The higher capacity is due to the fact it offers an 8-round magazine.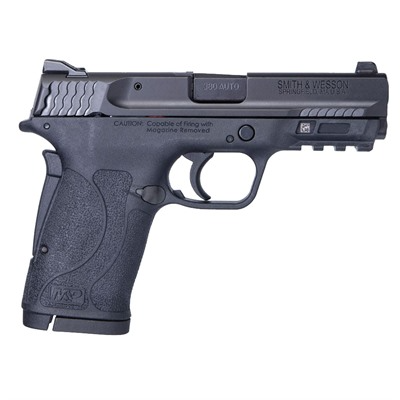 PROS
Good choice for new/inexperienced shooters.
The slide is easy to rack.
Low recoil.
Crisp trigger action.
Audible reset.
Under-frame Picatinny rail for optic attachment.
Ease of disassembly for cleaning.
CONS
Not the most compact concealed carry pistol out there.
Light trigger pull. This can be classed as both a 'pro' and a 'con.'
We put this in the best .380 pistols for concealed carry for two major reasons. It has a compact design and certainly packs a punch. In terms of power, you can compare it with a Glock 42, but the CW380 is smaller in all dimensions.
'Compact' is What You are Buying Into
The CW380 measures 4.88 inches in length, has a 2.58-inch barrel, a height of 3.92 inches, and a width of 0.90 inches. Its loaded weight with a 6+1 round magazine is 13.01 oz. (0.8 lbs). In terms of being one of the best concealed-carry pistols, you should have no issues tucking it away. It comes with a comfortable polymer-framed grip, and similar to all Kahr pistols, it has a 'striker-fired action.' The trigger pull is seen as being less than 5.5 lbs.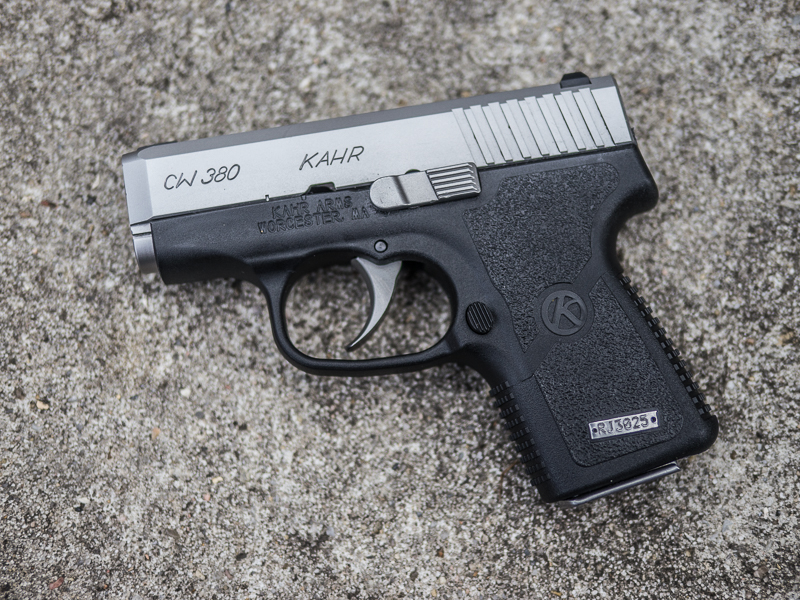 Image from The Firearm Blog
Adjustable Sight in .380 Pistols
It comes with a pinned-in polymer front sight, and the rear sight is of white bar-dot, drift-adjustable combat design. Many owners like to put their sight on this pistol, and there are aftermarket options available.
Is the slide action for you?
This pistol's slide is not the easiest to rack. This should not be an issue for most shooters, but if you are a shooter in need of a very easy slide-racking function, then look elsewhere. On the plus side, the recoil from this pistol is quite mild. If in doubt as to the racking function, go down to your local range and hire a Kahr CW380 for a session. Discuss with the range staff its merits, and you will have your answer!
A Question to Ask: Is Ammo Compatibility Important for a .380 Pistol?
While you are at the range, make sure you check ammo compatibility. This pistol shoots much better with specific types of ammo.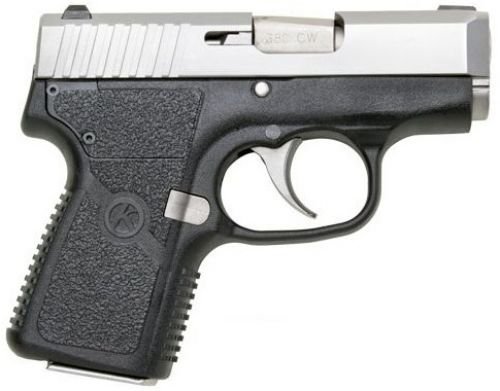 PROS
Compact is the name of the game.
Packs a punch.
Acceptably light recoil.
Smooth trigger action.
CONS
Ammo sensitive
The racking function may put some shooters off.
You may feel the need to replace the sights. Aftermarket options are available.
We finish our reviews with one of the lightest, concealed carry pistols on the market.
How light? This is the lightest Taurus pistol ever produced. The 738 TCP (Taurus Compact Pistol) weighs in unloaded at 10.2 oz. (0.62 lbs). Size-wise, you are looking at 3.75 inches in height with a magazine and 0.87 inches in width. Its overall length of 5.19 inches includes a barrel length of 3.3 inches. This best .380 concealed carry pistol will fit snugly into just about any pocket you have, with room to spare. For ease of concealment, this is right up any shooter's street.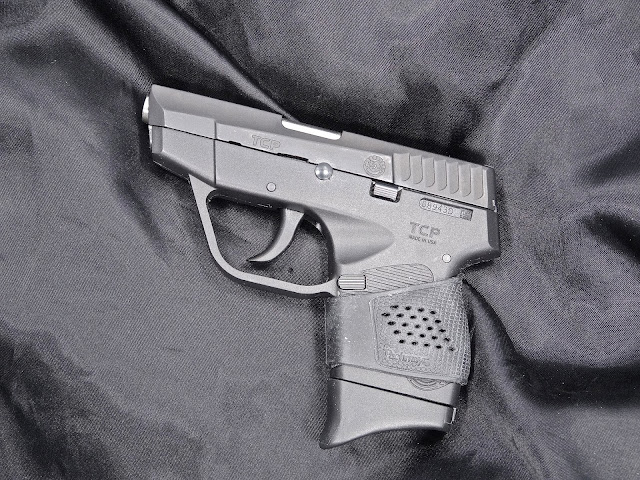 Image from Average Joe's
.380 Pistols with Real Value!
For the quality build, stylish looks, size, and most importantly, a most reliable .380 pocket pistol, you will not go far wrong with the very attractively priced Taurus 738 TCP. There is a choice of slide colorations to consider. We recommend those with a larger budget take a look at the Titanium variation. It is even lighter coming in at 9.0 oz (0.56 lbs) and does look stylish.
High-Capacity .380 Pistols Are Not So Easy to Find
It is a fact that 6+1 rounds is the usual ammo configuration for the best .380 pocket pistol models out there. The 738 TCP we are reviewing comes as standard with a 6+1 round capacity. However, you can purchase an extended magazine that will take 8+1 rounds. This moves the pistol into the high-capacity .380 pistols category. Although it will mean your pistol is slightly larger, this does not affect the ease of concealment.
Solid Features of .380 Pistols are Worthy of Note
You are getting a thin, lightweight, small polymer pocket gun that has been built to last. It features such things as a loaded chamber indicator, a slide lock, and an ambidextrous magazine release. It is rare to find these latter features on this type of small pistol.
DAO (Double Action Only)
The 738 TCP is double action only with a trigger pull that is acceptable. Some shooters may wish for a shorter trigger pull, but this trigger action seems to work for most who are looking at a best .380 concealed carry pistol.
Low Profile Sights
While Taurus does describe these sights as fixed and low-profile, they may be too low-profile for some! This can be overcome by purchasing a purpose-made optic for the pistol.
The Real Feature Which Has to Be Worthy of Attention
The Taurus 738 TCP offers excellent reliability and ease of carry, but for those on a tight budget, a real feature has to be its low price. This best .380 pistol does offer excellent value.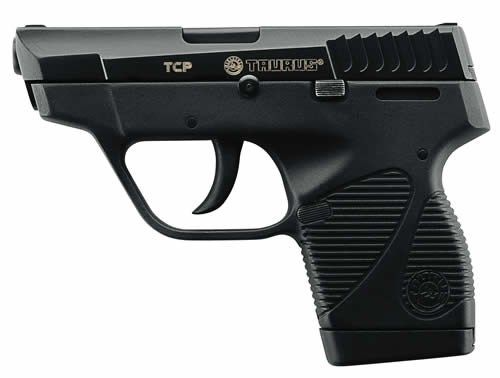 PROS
Excellent value.
Compact and lightweight.
Perfectly easy to conceal and carry.
Highly reliable.
Smooth trigger pull.
Extended magazine available – one of the few high-capacity .380 pistols out there.
Titanium slide offers cool looks and is lighter.
CONS
Low profile sights are very low.
Edges could be smoother.
Best .380 Pistols For Concealed Carry Buyers Guide
Before discussing the factors to consider when purchasing the best .380 pistol for concealed carry, it is important to note that shooters should take into account their personal needs and preferences. Various aspects can influence their decision, and it is important to carefully evaluate each one to ensure the best choice is made.
Stopping Power
The debate continues over how effective the best .380 pistol is when it comes to stopping power. This is not the article to get into a discussion on comparisons between this type of pistol and other more powerful pistols but would say: Accuracy is the thing that counts.
It is important to understand that to make the best use of any gun for self-defense purposes; you need to be confident in use. You also need to have the ability to accurately acquire and hit whatever you are aiming at. Achieving an accurate shot or series of shots from the best .380 pocket pistol will do the intended job. It will often be the case that well-placed shots will put your assailant down. At the very least, accurately placed shots will certainly slow their intended progress. This means that practice is vital. Make sure you become very familiar with your chosen .380 pistol. Make it a habit of getting down to the range for regular practice. Getting into this sort of routine could very well save your life.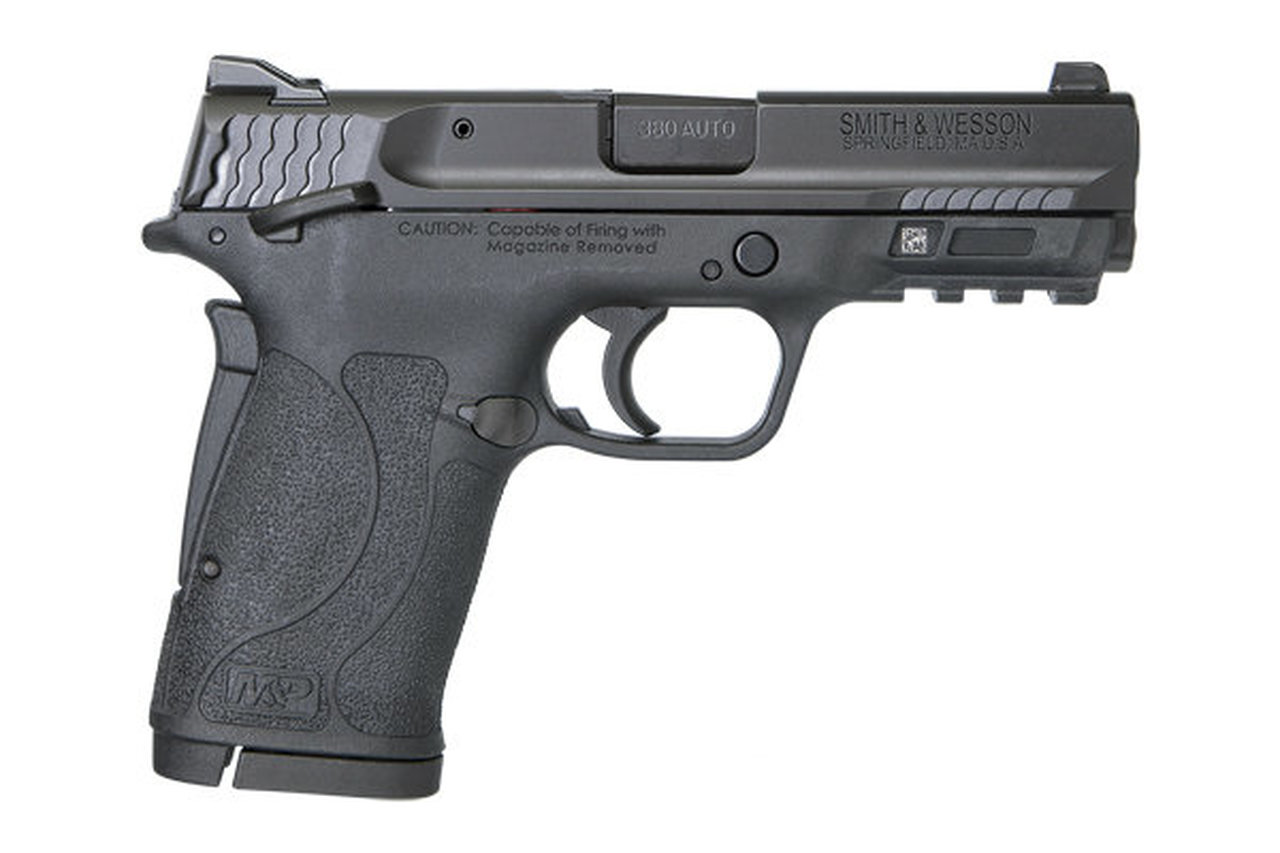 What You Should Be Looking For In The Best .380 Pistols For Concealed Carry?
Here are ten things to take into consideration before purchasing your .380 Pistol:
Size
The size of your .380 pistol needs to be small enough to conceal – This will depend on such things as the shooter's stature and the type of clothing they normally wear.
Weight
The .380 pistol needs to be light enough to comfortably carry.
Durability
The best .380 pistols will be sturdy and durable. They should be built to last a long time.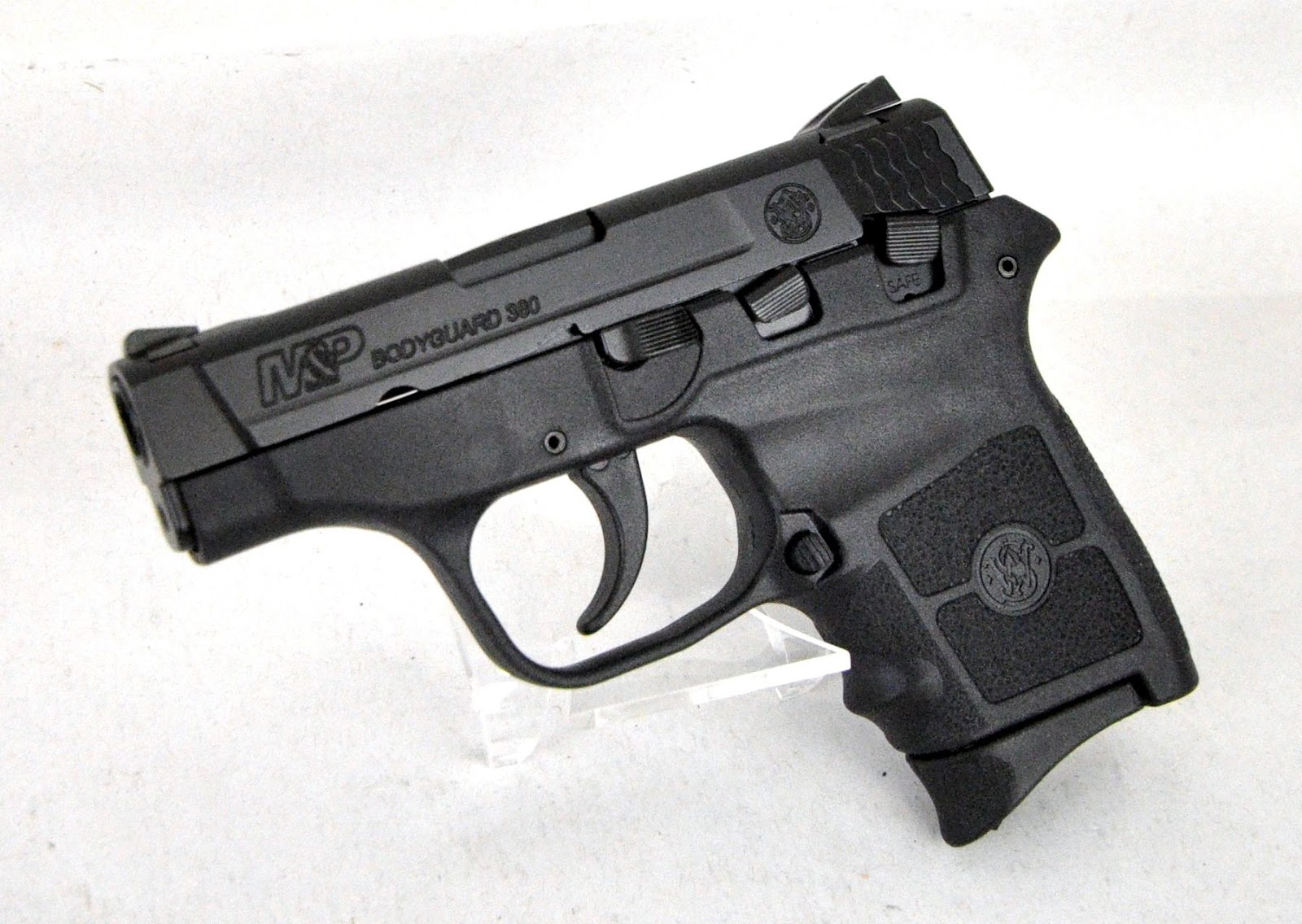 Trigger
Trigger actions and 'pull' weight vary. To find the right trigger action and pull weight for you, it's important to test different .380 pistol models at your local range. Keep in mind that triggers that require a long and heavy pull may not be ideal for those with smaller hands, as this can lead to misplaced shots due to the heavier recoil that follows. It's worth noting that double-action guns often have this type of trigger action.
Accuracy
Accuracy is crucial in hitting your intended target, so it's important to choose a .380 pistol that can deliver. Practicing regularly is key to achieving this level of accuracy and building your confidence with your chosen firearm.
Reliability
Reliability is a must-have feature. Your .380 pistol should have a proven track record of being dependable and functioning flawlessly when you need it the most.
Ammo Used
Ensuring your chosen .380 pistol works flawlessly with your preferred ammo is crucial. It's also important to consider the ongoing cost of ammo. Different types, such as hollow points, ball ammo, and full metal jacket, each have their advantages and drawbacks, so it's important to understand them before making a purchase.
Sights
The majority of .380 pistols typically feature fixed front and rear sights. It's worth considering whether these sights are adjustable or not. Ideally, it's better to have adjustable sights. Additionally, you might want to add a laser or night sight optic to your pistol for better accuracy in low-light conditions. However, keep in mind that the best options available for this are usually small and lightweight, but can come at a cost.
Aesthetics
While choosing the design and style of your .380 pistol may not be a matter of life or death, it's important to choose one that reflects your style. Since your firearm will be with you for a long time, it's worth investing in a design that suits your tastes and preferences. Remember to prioritize comfort and functionality, as well as style, when selecting a pistol for concealed carry.
Cost
Picking the right .380 pistol for concealed carry, the cost is an important factor to consider. However, you don't have to spend a fortune. Look for one of the best .380 pistols that are affordable and fit your budget. It's also important to remember that the cost of ammunition is a recurring expense, so keep that in mind as well.
What is The Best .380 Pistol For Concealed Carry?
When it comes to choosing the right .380 pistol for concealed carry, it's essential to consider factors such as reliability, ease of concealment, and affordability. While the debate over the stopping power of a .380 pistol may continue, we believe that with the right ammo, accuracy, and mindset, the best .380 pistols can deliver in emergency situations. The FS Taurus 738 TCP .380 ACP is our top pick for the majority of shooters looking for a reliable and easy-to-conceal .380 pocket pistol.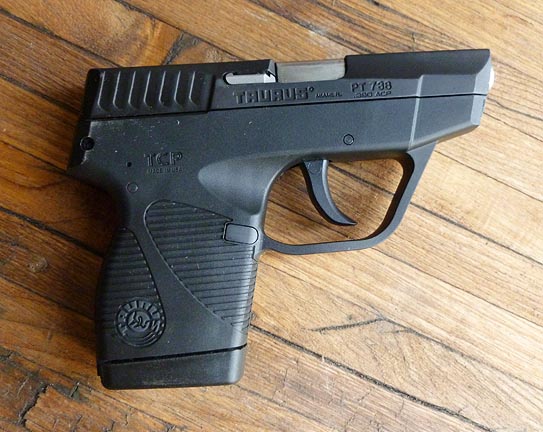 Image from The Truth About Guns
This compact and lightweight option is an excellent option for shooters seeking a reliable and easy-to-conceal .380 pocket pistol that won't break the bank. Its lightweight and compact design makes it a perfect fit for concealed carry. Additionally, the smooth trigger pull and high reliability of this firearm make it a top pick for those who value accuracy and consistency. The extended magazine option also provides high-capacity usage, while the titanium slide version offers a stylish upgrade.
Furthermore, investing in a high-quality pistol case is just as crucial as choosing the right firearm. Whether you're traveling or storing your firearm at home, a pistol case can prevent damage, scratches, and even theft. A great pistol case can protect the FS Taurus 738 TCP .380 ACP, making it a great long-term investment for responsible gun owners.
Wrapping Up
Ultimately, owning a firearm comes with a great responsibility to prioritize safety and take necessary precautions. At Cedar Mill Fine Firearms, we understand the importance of protecting your firearm, which is why we offer top-of-the-line hard pistol cases and foam inserts that provide ultimate protection and security for your firearm. We hope that this guide has helped you choose the best .380 pistol for your needs, and has highlighted the significance of investing in a high-quality pistol case. With our durable and TSA-approved cases equipped with Pick and Pluck foam pieces and a dual-latch locking system, you can trust that your firearm is always safe and secure, whether you're on the move or storing it at home. Trust in Cedar Mill Fine Firearms for all your firearm protection needs.